Guiding Light, All My Children Stars Spin the Wheel of Fortune
by Matt Richenthal at .
Soap Opera Digest went behind the scenes of Wheel of Fortune as soap opera stars from Guiding Light, All My Children, One Life to Live and Days of Our Lives partnered up with contestants, hoping to win big for their favorite charities at the game show's annual Celebrity Week.
"I used to watch soaps before I had children and started on TV myself. They're so addictive, you have to watch them. I did for years and years and years!" Vanna White laughed.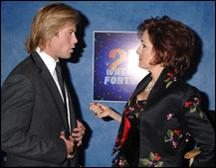 From there, the soap stars slowly trickled in. The perfectly coiffed

Jacob Young

(JR, All My Children, pictured here with Robin Strasser from One Life to Live) was pumped to battle it out against other daytimers.

"I'm actually going to have my partner do all the work. I'm just here posing," he joked.

So what fellow Pine Valley denizen would he like to play in a one-on-one game show showdown? "Wow. I don't know. That's difficult because I would beat every single one of them! I guess Aiden Turner [Aidan] because he's English," Young said.

Guiding Light'ss Gina Tognoni, representing the Hands On Network, was stunned to be playing on the game show she'd always watched with her grandmother.

"When I watched, I would check out who the celebrities were and now I'm on it! I'm thrilled!" she exlaimed.

Read the rest of the first-hand report now.

Matt Richenthal is the Editor in Chief of TV Fanatic. Follow him on Twitter and on Google+.

Tags: Guiding Light, All My Children
From Around the Web