Welcome to our eighth Heroes Round Table.
While fans of the show gather in the Anna Friel, I'd trust you with my life.
Milover: Bob. Adam's got nothing on this guy. Part Dick Cheney and part Cisco Adler, Bob is as shady as they get. We've always been aware of the shade factor when it comes to Bob, but his interactions with Peter last night showed us his diabolical side like never before. Plus, he's got mysterious, lightning-hurling blondes working for him. Bastard.
Timex: I'm gonna go with Bob. Adam is much more charming and has earned my trust.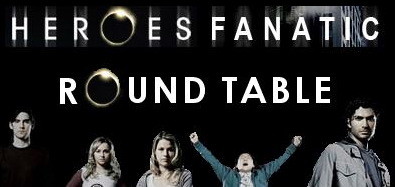 Which twin annoys you more: Alejandro or Maya?
Milover: Maya. I think we get it, Heroes. Maya cries. People die. The black tears - a nice, freakish and symbolic touch. Over and over and over again. Well done. Cool idea, okay? Are you happy now that you have our praise? Good. Now do something else with Maya, for the love of God.

Timex: Definitely Alejandro. Maya has possibly the deadliest power we've seen on Heroes yet. I love the fact they brought her on and can't wait to see what Sylar does with it when he gets his powers back. Alejandro is just a lame antidote.

A. Hiro: Maya. Your tears kill people. Stop crying.

Which absent main character did you miss the most last night?
Timex: I miss Noah Bennet. I think the episode "Four Months Ago" should have focused on the Bennet's move. Did they hire a moving company? Did HRG rent a U-Haul to save some bucks? Can we watch his interview at the Copy Kingdom? How did he qualify for a mortgage on such a nice house on a Copy Kingdom salary?

A. Hiro: Hiro. I wanna believe he's fully back from lame, romantic mode and ready to fulfill his world-saving destiny again. Guess I'll need to wait a week to find out for sure.

Milover: Claire. I love the ensemble cast (particularly Milo topless) but it's just not Heroes without Hayden Panettiere, I'm afraid.

Matt Richenthal is the Editor in Chief of TV Fanatic. Follow him on Twitter and on Google+.

Tags: Heroes, Round Tables