Here are highlights from an interview Lee Pace and Anna Friel gave USA Today about their characters on Pushing Daisies:
Q: From your banter, you seem to get along great. Could you engage in this romantic pairing if you didn't?
Pace: I don't know if you could get the specific thing that Chuck and Ned have if you didn't like each other as much as we do.
Friel: I'd be surprised. I've seen really great love stories and then heard through the grapevine that they actually despised each other. I don't think I could do that, if you're working 16-17 hours a day, five days a week. … I see more of Lee than I do my daughter (2-year-old Gracie), my partner (actor David Thewlis) and my family.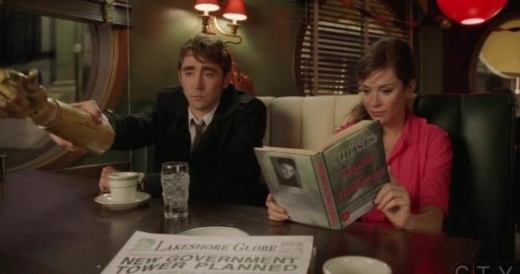 Q: What do you think of the central conceit — one touch, life; second touch, death?
Pace: It's sensible for Chuck to move as far away from Ned as possible. They shouldn't be in the same room together. But they can't live without each other.

Q: To avoid contact, pie-maker Ned and Chuck have touched through beekeeper suits, plastic casings, rubber gloves and kitchen wrap. How does it feel to kiss through plastic?
Friel: It's so hot. I highly recommend it. One of the most sexual experiences of my life (she says, laughing). The same with the plastic sacks in the car. That was thicker. Each time we do it, the plastic is getting thinner and thinner. We started with industrial strength and now it's going to super fine.

To read the full interview, click here.

Matt Richenthal is the Editor in Chief of TV Fanatic. Follow him on Twitter and on Google+.

Tags: Pushing Daisies