When Gossip Girl star Matthew Settle was a teenager in Sevierville, Tenn., he rebelled by cranking up the radio when driving a church van.
"Part of that (driving) was to (give me the opportunity to) listen to rock music," says Settle, whose parents are conservative Christians who forbade him to listen to such songs. "The other reason was I just wanted to drive."
Matthew Settle has come a long way since those days. He can be seen in the role of former rock star-turned-New York art dealer Rufus Humphrey in the new CW hit series Gossip Girl, airing 9 p.m. Wednesdays.
The series, which began in September, has been a big hit in the Knoxville area, reports the Knoxville News-Sentinel. Most weeks, its audience here rivals those in major cities such as L.A., Chicago and New York.
The show centers on a group of beautiful high school students at a posh private school in Manhattan where reputation is everything, and their lives are often dramatic and documented often on a website run by a shadowy female figure simply known as Gossip Girl.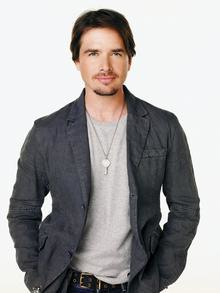 Matthew Settle's character, Rufus Humphrey, has two teen children at the academy. They're middle-class and don't quite fit into that world.

But Rufus Humphrey makes sure his kids, Dan and Jenny, don't fall victim to classmates' materialistic ways. There's no "do as I say, don't do as I do" stuff for Rufus. He's straight with the children, played by Taylor Momsen and Penn Badgley, about what to expect out of life.

Like his character's kids facing class struggles in the school setting of Gossip Girl, Matthew Settle has also been there and done that.

Reared in a household in which his father's meager salary as a minister kept the family fed, Settle attended Seymour Christian Academy, a private Christian school. His values may have melded with the other students, but he was surrounded by classmates whose families often had larger incomes.

The students of Gossip Girl do have striking differences from Settle's former classmates. For one, the TV teens smoke and drink. Settle says those habits can open up the characters to see the error of their ways.

"There are opportunities for the characters to go through moral growth," Settle says. "Those aspects of drinking and smoking are very much apart of life. Who are we kidding?

"It's not a glorification of it, but it's a part of what these kids do."

Gossip Girl creator and executive producer Josh Schwartz says Settle's charm was why he won the role.

"We needed someone who could bring in a lot of life and humor to the role and someone who could appeal to the ladies," Schwartz says, "and Matthew had all that."

Settle wants to make sure Rufus isn't your typical TV dad. He has the trendy haircut and wears the rockin' jeans and T-shirts, a look Settle calls "shabby-chic."

Settle also wants to make sure the somewhat larger-than-life Rufus is grounded.

"He's cool because he's a rock star," Settle says. "He's a very human dad. He shows care and respect. My dad is very much like this character.

"He will speak his mind at any time, no matter if it is to the president or a stranger on the street. Rufus would do the same thing."

Steve Marsi is the Managing Editor of TV Fanatic. Follow him on Google+ or email him here.

Tags: Gossip Girl