Wide-eyed teens excitedly watch as Gossip Girl star Blake Lively films a scene with co-star Penn Badgley in New York's Stuyvesant Park.
Lively, who got her big break as a soccer-loving teen in The Sisterhood of the Traveling Pants (2005), plays Serena van der Woodsen on the CW hit, based on the popular young-adult novels.
The 20-year-old Blake Lively sat down with The Associated Press in between scenes to talk about her Gossip Girl success, her determination to stay grounded, and her love for a certain guitar-themed video game.
AP: Do you get recognized on the street?
Blake Lively: It's pretty crazy. Not only (as) Serena van der Woodsen, but people know my own name ... (Everyone) from young girls, teenage girls, women in their 30s and 40s to, like, Guido-type guys, like frat boys. One day these, like, thuggish guys were, like, coming out, rolling out of their Escalade and they go - they're like, "Man, that's gossip girl!" And they were, like, freaking out. It was so strange how many people would just get giddy over it. And it's people that you would not expect at all.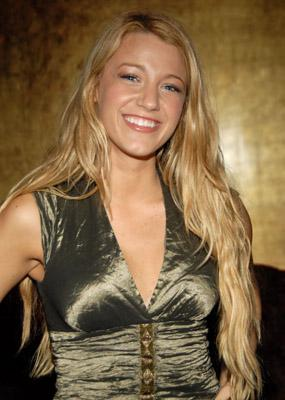 Blake Lively: A SoCal gal and a New York sensation.

AP: Are you anything like Serena van der Woodsen?

Blake Lively: No, not at all. Serena was brought up very differently than I was brought up. Serena was given everything her whole life... I grew up in a small little town in California - Burbank. I went to high school (and) what we would do on our nights off (was) go to a school fundraiser, go to a football game, where these people have masquerade balls or go lounge at The Palace Hotel and sip martinis... At the heart of it all, Serena really wants to be a good person - despite all odds, despite all the chaos that's going on around her and all the other people in her life. So I think that I strive to do the right thing and not fall into the norm (like) so many young people in Hollywood who - because they were raised differently - get caught up in some of the nonsense. And I really try to steer clear of that. So, you know, we're like that in the same way. We both giggle a lot. We look alike!

AP

: On one of the recent

episodes

, Serena kicked butt playing "Guitar Hero" at a party. Did you do any research for that?

Blake Lively: The reason they wrote it in was because I'm such an amazing "Guitar Hero" player. I saw clips of it. It doesn't really debut my skills so well, which I was very disappointed about.

AP: Gossip Girl will halt production if the Hollywood writers strike continues. What do you think about that?

Blake Lively: Everybody needs to do what they need to do, so, you know, we just have to keep our fingers crossed that we'll be able to pay our rent soon. Everybody understands what's going on, and, so, there's nothing anybody else can do about it.

AP: Did you grow up knowing that you wanted to act?

Blake Lively: I had no clue what I wanted to do, but I knew it was not acting - just because my whole family (her parents and siblings, including sister Robyn Lively, who starred in 1989's Teen Witch) was in it, and it was the only job I really knew of. And I thought, "That's really cool but that's not something I want to do." So I worked my whole life to go to Stanford, and the summer between my junior and senior year of high school ... my brother decided I would love acting. So he made his agent send me out on a few auditions. I went on two auditions and I got Sisterhood.

AP: What happened after that?

Blake Lively: Everybody was telling me, "Oh, you can't go back to high school. You can't finish your senior year. You gotta keep doing movies now, get yourself out there" ... I was very involved in school: I was class president, I was in nationally competitive show choir, I was in cheerleading, I was in all AP classes, six different clubs. So it was my life. I was at every fundraiser, every event... But, you know, I went back to school my senior year and decided I would take a year or so off to act. And that's what I've been doing ever since. So I love it. And here I am.

Steve Marsi is the Managing Editor of TV Fanatic. Follow him on Google+ or email him here.

Tags: Gossip Girl