Crystal Chappell recently talked with CBS about various Guiding Light characters, actors and story lines.
Here's a summary of what she had to say:
Who would she like to work with?
Ricky Paull Goldin [Gus] - I don't think we've ever worked together - in passing maybe. And it's certainly nice to have Danny Cosgrove [Bill] back. And even Marcy Rylan [Lizzie]. We haven't really had much to do in a long time. So, it's really fun. There's a lot coming down the road, which complicates [Olivia's] life and sends her in a different direction for a while.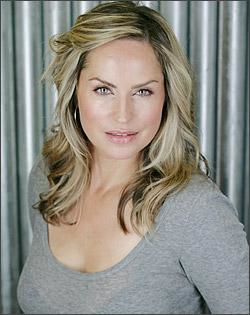 On Olivia and Gus
It's a friendship but then something happens in her life that sort of makes her really value the time that she has. And he's a great friend to her through all that. So, after a period of time, she does start to feel something more for him.

Working with Ricky Paull Goldin
I've known him for 15 years. Ricky's a writer so it's fun to sit and rehearse with him. He tries to make it sound as real as possible, so he's very loose and flexible that way and it works for me too because we're always tweaking stuff just to make it flow a little easier off the tongue. I think there's a nice energy there. We'll see what happens. So far it's completely platonic.



A Bad Reputation

I never get sex scenes. I'm always talked about as being the biggest whore on the show and I never get sex scenes. Have you noticed that? It's true. Everyone else is screwing around and I'm being called names. It's not fair! [Laughs]

Olivia and Alan?
Those two should end up together. They'd drive each other completely mad. I would love that. I love working with Ron Raines. He makes me pee my pants, literally. He makes me laugh so hard that I just lose it.

She'd Really Like to Work With...
That's a good question. Some of the new people. I haven't worked with Murray Bartlett [Cyrus]. I love working with Marj Dusay [Alexandra]; I think she's just terrific. There aren't that many guys left. They're all paired up. I need some fresh blood! I would love it if they brought Phillip back. I think that's a fantastic character.

Matt Richenthal is the Editor in Chief of TV Fanatic. Follow him on Twitter and on Google+.

Tags: Guiding Light