Happy Monday to all, and welcome to the 84th Grey's Anatomy Insider Caption Contest - a weekly tradition that not even the writers' strike can stop!
Without further ado, let's announce the winner from this week's contest, which used this pic from "Crash Into Me, Part I." It was a difficult choice as always, for we receive so many good entries, but we went with Janice. Congratulations!
Thanks for playing the Grey's Anatomy Insider Caption Contest and making us the #1 Grey's Anatomy fan site online. Good luck to all again this week.
The winning caption entry now appears under the picture and you can scroll down to read the whole list of submissions we received this past week!
Here is this week's Caption Contest image: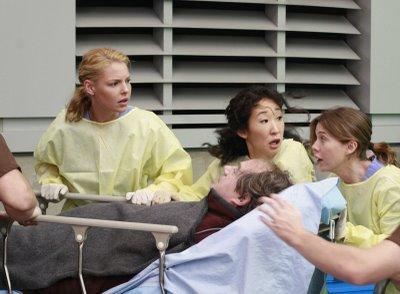 Meredith: Get out of the way!
Izzie: Are you Cristina Yang?
Cristina: Yeah?!
Izzie: I'm Izzie.
Meredith: Great. We know that Izzie. Move!
Izzie: I'm Izzie Yang. Your sister.
[commercial break]