Welcome to our eleventh Heroes Round Table.
While fans of the show gather in the
Milover: Niki. Better legs.
Timex: Nathan. Niki may be gorgeous, but they've been phasing her out this season, so I won't miss her. Flying Man, farewell.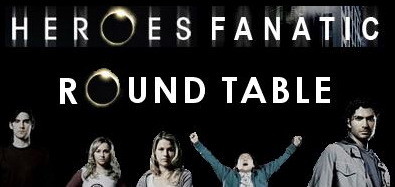 Who shot Nathan?
Milover: I don't know who pulled the trigger, but it seems clear to me that his mom orchestrated the assassination. As for whether it was a Bob henchman or the Company man himself that carried out the plot, we'll have to wait and see in "Villains."
Timex: Well, we know it was someone from the old generation or The Company if they were talking to Mrs. Petrelli. My guess? The baddest, awesomest member of The Company is back: HRG.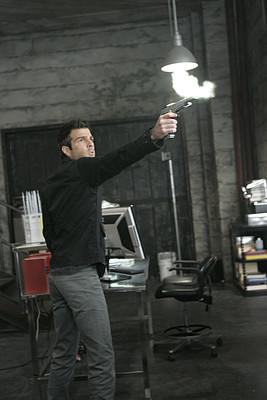 A. Hiro

: What about some future version of Peter? We didn't see much of the shooter, but that walk looked familiar. Knowing how gullible Peter can be, perhaps he was convinced that gunning down Nathan was a necessity.

Have we seen the last of Adam Monroe?
Timex: Nope. I'm pretty sure Hiro needs to pick up Season 1 on DVD and realize that Molly can locate anyone.

A. Hiro: No way. The title of the next chapter is "Villains" and it doesn't really get more evil than Adam. Sylar will find a way to raise him from the quasi dead.

Milover: I doubt it. I've watched enough Days of Our Lives to know that being buried alive is just the precursor to an amazing, vengeful return.

Will Elle and Mohinder hook up?
A. Hiro: No. Mohinder doesn't seem very smart about anything outside of a science lab. Hard to imagine he noticed the look Elle have him at the end of this episode.

Milover: I hope so, and not just because I have a thing for Kristen Bell and want her to get more screen time. I'd love to see these two at home and watch Elle react to future indiscretions by Mohinder. Most of us don't have the ability to deliver a lightning bolt to the crotch if their partner has a wandering eye.

Timex: No. Will Elle and Timex hook up? Hopefully.

Matt Richenthal is the Editor in Chief of TV Fanatic. Follow him on Twitter and on Google+.

Tags: Heroes, Round Tables