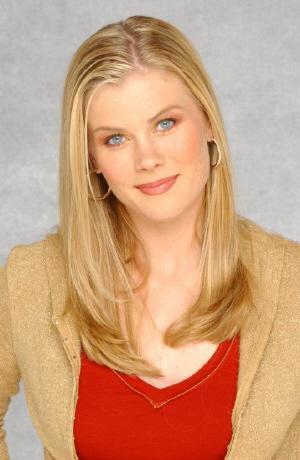 Alison Sweeney
is more than just content that Ed Scott is now a writer on Days of Our Lives. Regarding Scott, the actress recently told
Boston Now
:
"It's fantastic.  We're so lucky.  He's such an amazing producer. He made such an impression on the set from the moment he got here with his enthusiasm and his work ethic and his strive for perfection, and that's what I admire so much because that's my mentality…
He wants it to be right, he wants it to be good, he wants it to be perfect.  He is someone you can look up to and someone you can work hard for."
And Sweeney is used to working hard, especially since she has to juggle her successful television career with taking care of her family: husband David Sanov and two-year-old son Benjamin Edward.
"It's not easy," she said of balancing family with work, which includes hosting NBC's The Biggest Loser.  "I couldn't do it if I didn't love all the jobs; I love being a Mom, I love my son, and my husband.  I am so lucky to have such a supporting, loving family, and they are with me as much as they can be.  We do stuff together and have quality family time as much as possible."
Sweeney added: "[Days of our Lives] is a part of my life.  I've been doing it for almost half my life and everyone here is my family.  I care about the show so much and want it to succeed; I wan