Hulk Hogan and Laila Ali don't hold back when talking about the latest reincarnation of American Gladiators.
The former wrestling superstar, for starters, considers the show to be an American icon.
"I think it's going to be an interesting piece of programming in action TV. It's kind of like a McDonald's or Chevrolet or Babe Ruth or Hulk Hogan or Mohammed Ali - American Gladiators has been intertwined with American society for so long that to bring it back is something that makes sense," Hogan recently said.
"It's something that's a genius idea at this time; I think it's going to be something that people get addicted to. They've added more intensity to the events; there's water involved in a lot of the events and I think the one thing that really is going to make people get hooked on the show is the competition.
The contenders are normal people that came to the dance this time; they had to beat out thousands of people to get here."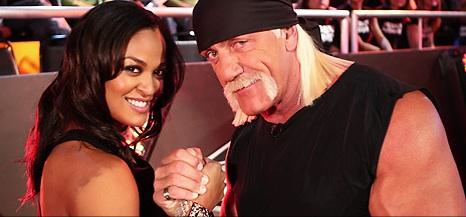 Ali echoed her co-host's sentiments, setting up the dichotomy of the program for viewers:

"It's real people going up against gladiators; I, for one, don't vouch for anyone I don't know. I don't care if they're male or female - may the best person win. I'm not one of those women who's like, 'Pro women;' I'm an individual, and I'm in an individual sport," Ali said.

"So I see everyone as individuals, not as male or female. And I usually tend to root for the competitors, not the gladiators, because they're the ones who are really here. They're not really competing against the gladiators, they're trying to get their points. I always try to remind them, 'Hey look, you're going up against each other. But you have to face the gladiator, though.

But in the end, you have to remember that you're trying to do better than your contestant is going to do."

American Gladiators premiered last night and will also air a new episode tonight.

Matt Richenthal is the Editor in Chief of TV Fanatic. Follow him on Twitter and on Google+.

Tags: Reality TV