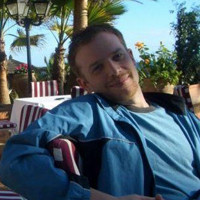 Tom Casiello (pictured) was recently fired as a writer on Days of Our Lives.

Before that unceremonious decision, however, the writer spoke with Soap Opera Network about his history of working on various shows. Here are a few highlights:

Question: What are some of your favorite episodes you wrote at As the World Turns?
Casiello: There are so many. Oakdale was such a special place for me, because it was a town I wasn't all that familiar with. So it was the first time in my career that I really had to study a show, because I knew so little about it. I had seen it occasionally growing up, and of course, loved how Doug Marland structured his stories. But a fifteen-year old can only watch so many soaps a day.

So I really had to do my homework and because of having to work that much harder, I was prouder of the episodes I turned in. My absolute favorite episode was right after Bryant died. I wrote the day Craig saw his son's body for the first time, and Barbara showed up at the hospital and said she hoped he felt that way for the rest of his life. I still get chills. I also wrote a few key crazy Julia Lindsay episodes early on, and those were a blast. Oh, and I also got to write Jake and Vicky, which was INSANE since "Another World" had just gone off the air.

Even though it was ghost-Vicky, it was wonderful to write for Tommy [Eplin] and Jensen [Buchanan], having gotten to know them at "Another World." I wrote Jake saying goodbye to Vicky at the Lassiter swings, on a completely different show - very surreal.

Question: In late summer/early fall of 2006 you wrote for The Young and The Restless. How was your stay in Genoa City?
Casiello: Brief. [Laughs] It just wasn't a good fit, and I could feel it from the beginning. It wasn't a personal issue. The people there were really wonderful - I didn't know what it would be like breaking into a Bell show, since they usually hire within their ranks. But they were SO welcoming and SO warm.

I really struggled, but that's not a measure of my abilities or theirs. I just couldn't get a handle on the characters or the story, and it showed. I worked really hard to overcome that, but sometimes, you just don't click with a show and the lesson I learned there was that it's okay if that happens. Not every writer can write for every show.

Question:

Another storyline I enjoyed was the Chloe/Shawn/Belle/Philip quad. I thought all the actors had chemistry with each other, especially Martha Madison [Belle] and Jay Kenneth Johnson [Philip]. What did you think of this quad?

Casiello:

Honestly? I didn't love them until Philip and Belle slept together. Suddenly it was like the whole world opened up. Philip became softer, Belle became less chaste and more real and I LOVED LOVED LOVED Hope finding out immediately. What a great move on Hogan's part, amping everything up immediately.

When I read it in the projection, I was stunned. I didn't see it coming at all. I have to admit, I was never a huge Chloe fan, mainly because of the Broe/Phloe days. Nadia's great, but I just didn't get the character. But once we talked about the things that have happened to Chloe since she left Salem, I was really excited to write it. I wrote the day of the high school reunion, and that's when it clicked into place for me, who these four were.

Chloe and Belle is another fantastic relationship I wanted to continue to explore - they were best friends. That doesn't die overnight. But between Philip and Brady and Shawn, there are so many things in the way of their friendship. That's good drama!

Read the full interview now.

Matt Richenthal is the Editor in Chief of TV Fanatic. Follow him on Twitter and on Google+.

Tags: Days of Our Lives
Want more Days of Our Lives?
Sign up for our daily newsletter and receive the latest tv news delivered to your inbox for free!
More From TV Fanatic
A familiar face returns to Salem. Check out these photo from Days of Our Lives starting the week of 7/28/2014.
Our Days of Our Lives round table teams up with MyHourglass to debate if Will took his tirade against Sami too far and whether Abigail has suffered enough after this week's Days of Our Lives.
Will turned on his mother as EJ's hopes of reconcilation crumbled. Theresa faced Victor's wrath and Danile, Hope, and Eric planned trips out of Salem. Check out our recap of this week's Days of Our Lives.
Jennifer gets a shock, Eric asks a favor, and Brady struggles with a life and death decision. Check out these photos for Days of Our Lives from the week of 7/21/2014.
---