Not everyone is bashing Miley Cyrus for stripping down in Vanity Fair.
"I think she's a young girl in Hollywood, and she's just having fun," The Hills' Heidi Montag told Extra. "[She]'s exploring herself."
Added her boyfriend Spencer Pratt: "I didn't think it was that bad. Supposedly, she's wearing a top underneath. It's artistic."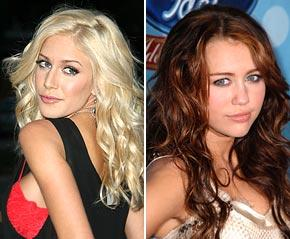 Seems that in defending Miley Cyrus, Heidi Montag, Spencer Pratt and Lauren Conrad may finally have something to agree on!

When asked about the racy pics, Lauren Conrad said:

"I found it a bit silly. I thought she looked beautiful in the pictures. I didn't find it that inappropriate."

"Being young and in the spotlight is difficult," LC added. "It's a lot of pressure on her since she is a role model, but I think she's doing a good job."

Matt Richenthal is the Editor in Chief of TV Fanatic. Follow him on Twitter and on Google+.

Tags: Reality TV