Tears were not in short supply on July 1 when two of TV's Army Wives met some of the real-life women they portray on the hit Lifetime series.
Actress Sally Pressman, who plays Roxy LeBlanc, and co=star Brigid Brannagh, who plays Pamela Moran, recently watched an upcoming episode with Army wives and service members at Walter Reed Medical Center outside Washington, D.C.
"It was incredibly emotional," Sally Pressman said.
"The only thing I can say is, it's a night I will never forget and it was life-changing. I'm not going to be the same."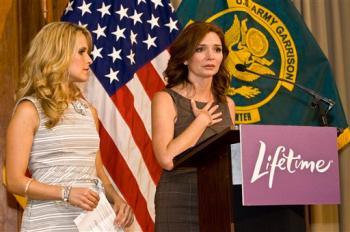 Army Wives' Sally Pressman and Brigid Brannagh meet their real-life counterparts.

Sally Pressman said she learned that night just how much Army Wives means to the women, who often together in large groups.

She said one woman whose husband was killed in battle told her, crying: "The only thing that has made me happy since then is your show."

Brigid Brannagh said she was moved by the upbeat attitude of the wounded service members she met at the U.S. Army medical center.

"One man had shrapnel all over his face and his legs, and they're trying to figure out what kind of use he's going to have in his legs ... they're 19 and they're 20 and they're more positive than I could ever be," she said.

Steve Marsi is the Managing Editor of TV Fanatic. Follow him on Google+ or email him here.

Tags: Army Wives