Much like gay cowboy Steve, Angie Swindell had her time in the Big Brother 10 house cut short because of her friendship with Brian.
Though she joined an alliance to stop the powers that be (Libra, April, Ollie), the team's inability to win HoH or PoV sealed her fate.
TV Guide caught up with Angie to chat about her elimination, why she didn't lobby to stay, and whether anyone can stop Libra.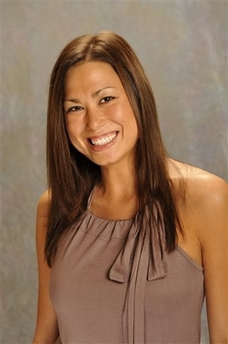 Q: So I can't say that this eviction was much of a shock.

Angie Swindell: Yeah, I definitely had a feeling it was coming, even before the nomination ceremony took place. You always have your hope that the plan to have Dan and Libra go up after the conversations Memphis and Jessie had with Keesha would happen, but you kind of have to take things for what they are. So, when my key wasn't pulled, it wasn't a big surprise. At that point I knew I was going home, so I was just trying to strategize in my mind what I could possibly do in order to survive.

Q: We didn't see you fight or lobby very hard. Were you just hoping Jessie Godderz would self-destruct?

Angie Swindell: I think that I lobbied a little more than what was maybe shown on TV. My approach to the whole game was the "lay low, plant seeds" strategy to let other people do the bidding and get targets on their back when it came down to things. So, I was hoping that if I did lay low, [Jessie Godderz] would self-destruct because he was already paranoid that everyone was going to vote against him. If he digs his own grave with me not causing any drama, it would have been much better for me staying in the house than If I had tried to lobby or be more forceful, giving them more fire to want to get me out. Unfortunately in the house this season, there are not a lot of people playing with common sense and rationale — they're playing emotionally rather than strategically.

Q: Those emotions are still linked back to Brian, who told us that he warned you and Steven to stick together. Do you think if you had listened, you'd still be in the house?

Angie Swindell: Hindsight is 20/20. If I could go back, I would take back being a part of that whole mob mentality that stormed Jerry's room and told him to put Brian on the block. Getting to know Brian that first week, I realized that he was somebody with a mind like me, as far as gameplay goes. He told both Steven and I that we really needed to stick together. Unfortunately what Brian didn't know was that I had already pledged my alliance to other people in the house. And after the backlash of me trying to campaign for Brian the last night before he got evicted, it was sink or swim. If I tried to save Steven that week, I'd have been in the same situation that I'm in now. I wish I could change those things, because if Brian and Steven were still in the game, it'd be a completely different story.

Continue reading in TV Guide ...

Matt Richenthal is the Editor in Chief of TV Fanatic. Follow him on Twitter and on Google+.

Tags: Big Brother