The cast of Army Wives probably will attend a benefit for the homeless in North Charleston, where the show is based and filmed, on September 6.
Eight Army Wives cast members, including the acclaimed Catherine Bell and Kim Delaney, will step out of a limo onto the red carpet for the $125-per-ticket homeless shelter fundraiser.
The event will take place at Quarters H and I on the old Navy base - shown in the military-themed series as the base's headquarters - according to North Charleston Grants Administrator Shannon Praete.
"It will be a fun night for a great cause," Praete said. "It will be a little bit of Hollywood in North Charleston."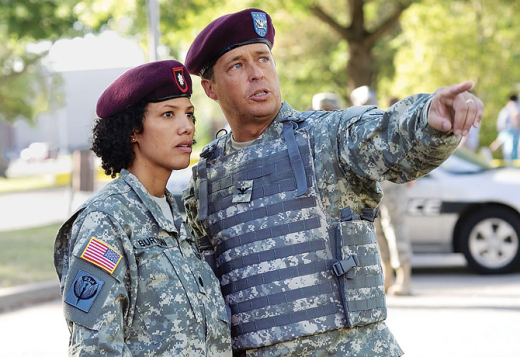 Other stars of the show, which has been picked up by Lifetime for a third season, who will attend include Sally Pressman, Brigid Brannagh, Wendy Davis, Sterling Brown, Brian McNamara and Drew Fuller.

The fundraiser will feature cocktails, heavy hors d'oeuvres and a silent auction of donated items such as gift certificates and dinners.

All money raised will go toward the proposed shelter for women and children called SOLD, for Sustainable Opportunities for Life and Dreams. The shelter will be located on 3.75 donated acres on Leary Street near the new Remount Venture LLC defense- contracting facility off North Rhett Avenue.

The $3.6 million facility will have 148 beds and be run by North Charleston Housing Authority.

The shelter will help women repair their lives, get jobs and eventually live on their own. It probably will not open until 2010.

"We are throwing everything behind it that we can," Harry Bring, series co-executive producer, said. "It's not only a good reason, but it's also a good way to give back."

While the principal stars of the show have expressed interest in attending, Bring cautioned that one or two could get called away at the last minute.

"Nothing is taking anybody out of town, but I imagine we will have a good turnout," he said.

North Charleston Mayor Keith Summey welcomed the Army Wives cast in supporting the city's efforts to help the homeless and called it a major fundraiser.

"We are doing this to change people's lives," Summey said. "We need to teach them to have independence and self- worth. We are making a statement that North Charleston is a caring community."

Army Wives, which airs at 10 p.m. Sundays, tells the story of four women and one man who are brought together by their common bond — they all have enlisted spouses.

Steve Marsi is the Managing Editor of TV Fanatic. Follow him on Google+ or email him here.

Tags: Army Wives