Big Brother 10 Recap: April Has Multiple Personalities; Memphis and Jessie Nominated For Eviction
by Matt Richenthal at . Comments
With Angie eliminated and a new HoH competition underway, there was big time backstabbing on Big Brother 10 last night.
While some of the housemates didn't have a strong reason to win the HoH competition, Jessie, Michelle and Memphis knew that being the last one standing on the fake building could change the course of the game.
Jessie fell to his doom fairly quickly, proving that his muscles do absolutely nothing, while Memphis was also quick to go.
Michelle hung on until the end, only letting go after April promised not to nominate either her or Jessie Godderz.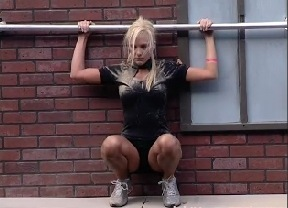 The problem? New HoH April can't keep a promise.

April put Jessie Godderz up for elimination pretty much immediately thereafter, leading us to wonder who the heck April even is.

The sweet Nebraskan girl who terribly misses her sister, the sleuth who deduced that Dan is America's Player, the paranoid / crazy biatch who doesn't trust Keesha and Memphis (also up for elimination now), the ultimate backstabber - who is this April!?

Meanwhile, Dan may be the most annoying guy ever, but he at least did a good job as America's Player. The United States of America wanted Jessie nominated for eviction, and somehow Dan managed to pull it off.

Of course, it's possible that duplicitous April was planning on nominating him all along and that Dan had no influence over her decision.

Big Brother 10 returns Tuesday night, which is when we'll discover if Jessie Godderz or Memphis have a shot at being saved. 

If Jessie gets sent home, it won't be long before a Michelle-April catfight starts up. That's reason enough to hope he goes.

Matt Richenthal is the Editor in Chief of TV Fanatic. Follow him on Twitter and on Google+.

Tags: Big Brother