We just hung up the phone with Swoosie Kurtz - and it's difficult to imagine an actress being warmer or more generous with her time than this Pushing Daisies star. She made it sound like it was an honor to speak with us!
Trust us, Ms. Kurtz, the honor was all ours.
Below, the actress answers questions about her initial reading of the show's script, how long it might stay on the air... and if Aunt Lily is headed for prison this season:
What was your reaction when you first read the script for Pushing Daisies?
I was instantly attracted to it. I had never read any writing like this in my life... Over my career, I've been lucky enough to enjoy an embarassment of riches when it comes to good writing - really, I've been blessed, as the first thing I look for in any part is good writing - but this was so vivid. It was just genius on the page and I thought: 'I can take this and soar.'

[Creator Bryan Fuller] had me by the bottom of page two, with Digby's death. I was crying, I was laughing.

I had to go back and check cover to make sure... this was a TV pilot?!? On a network?!? I just thought: 'I've got to be a part of this! I would be so proud to be a piece of that pie!'

What kind of message do you think Pushing Daisies sends?
It's far out, yet it has values we can all relate to. Fairy tales are primal in many ways: bad guys get killed, true love really does live happily ever after. There are basic emotions on the show - unrequited love, loss, sexual tension - and they are so real and true. The human condition is the part of the show I can really relate to.

In the presence of death, Pushing Daisies is such a celebration of life. Especially in these cynical times, on the brink of financial collapse as we are, it just gives you such hope in humanity.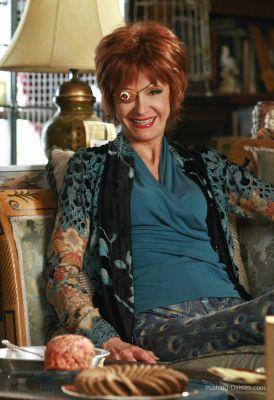 Three cast members - yourself, Ellen Green and Kristin Chenoweth - possess extensive Broadway experience. How has this shaped the characters you play?
These characters have to be heightened, not naturalistic. Our experience helps make them grounded. We all have that ability to be heightened, but still be real.

Is there any fear that the high concept of the show will limit how long it remains on the air?
Not to me. On the show, antyhing can happen, and it does! It has legs because the more [Ned and Chuck] go on, not being able to touch, the deeper their love gets for each other. It's more complex and more intense.

What's in store for season two?
Vivan goes on several dates with a very bad man, who I want to wipe off the face of the planet because he knows way too much about my past. In the process of trying to keep him quiet, I MAY go to prison. There's that threat, at least, as we're in the process of shooting those episodes right now.

Matt Richenthal is the Editor in Chief of TV Fanatic. Follow him on Twitter and on Google+.

Tags: Pushing Daisies, Exclusives