Eli Stone is off to a strong second season start.
And the show is likely to garner far more attention over the next few weeks, as Katie Holmes come aboard the show in the role of Grace.
But who is Grace? E! Online asked show runner Marc Guggenheim that exact question.
"I like to call [Katie's character Grace] She-li because she's kind of the female version of Eli...She's a lawyer who changed her life and went in a much more public-interest, pro-bono direction. She kind of represents another way Eli could have gone with his whole change of life."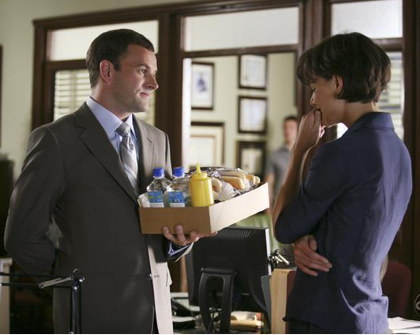 According to various Eli Stone spoilers, Katie Holmes' character will play a key role this season.


So, does Mrs. Tom Cruise stick around?

"Yeah, Grace sort of remains in the background throughout the year, and then she moves large toward the middle half of the season. The relationship that's established is obviously a very important one to Eli, and I don't think we would be being truthful with either the show or his character if we didn't occasionally allow Grace to influence the scenes that Eli's in and the experience that he's going through.

Matt Richenthal is the Editor in Chief of TV Fanatic. Follow him on Twitter and on Google+.

Tags: Eli Stone, Spoilers