Now that Friday Night Lights is airing on a satellite television channel, it is time to re-evaluate its definition of commercial success.
After two seasons on NBC, the critically acclaimed drama about a small Texas town and its football team made its debut Wednesday on DirecTV.
It will run on DirecTV exclusively for four months before starting its third season on NBC in February. The arrangement defrays production costs.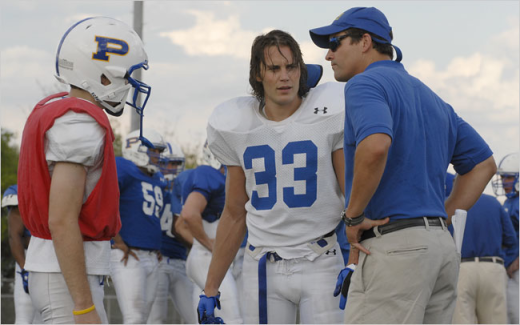 In its first two seasons, Friday Night Lights averaged 6.2 million viewers on NBC, a relatively low rating for a major network broadcast.

Wednesday's DirecTV debut reached a much smaller audience – 400,000 – but then again, the satellite universe is also much smaller.

DirecTV counts 17.1 million subscribers. NBC reaches 100 million homes.

During the hour of its premiere, Friday Night Lights ranked No. 7 amid all of basic cable available to DirecTV viewers. That note is important, as DirecTV is measuring its competition based on its subscriber base.

Within the critical advertising demographic of 18- to 49-year-olds, Friday Night Lights ranked No. 2 with women and No. 7 with men.

The series is on The 101, a DirecTV channel dedicated to original shows. New episodes will be shown Wednesdays at 9, with repeats on Fridays at 9.

The more important metric than ratings is subscribers, as DirecTV is using Friday Night Lights as an enticement for new customers.

NBC knew it needed a partner, and DirecTV licensed the rights to the "first window" of the show, meaning DirecTV subscribers will see the new episodes of Friday Night Lights four months before the broadcast audience.

Matt Richenthal is the Editor in Chief of TV Fanatic. Follow him on Twitter and on Google+.

Tags: Friday Night Lights