Jesse Csincsak recently had his upcoming dream wedding to The Bachelorette star DeAnna Pappas called off.
Now the snowboarder is opening up in a revealing interview ...
TVGuide.com: Why go on YouTube.com to present your side? Why not just issue a joint press release?
Jesse Csincsak: We were going to do that, but some people found out [before we wanted]. The easiest thing seemed to be to hop on the webcam and put it on YouTube.com. I did it because I wanted to tell the fans what happened. [DeAnna and I] have gone our separate ways. I love her and I wish her nothing but the best. I felt that that's what I portrayed on YouTube and I hope that's the way it was taken.
TVGuide.com: What response are you getting?
Jesse Csincsak: Thousands of emails, 20,000 to 30,000 hits a day on my MySpace page and 5,000 emails to my MySpace page.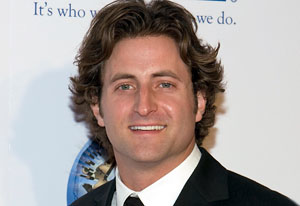 TVGuide.com: Any ladies interested in picking up where DeAnna left off?

Jesse Csincsak: There are definitely a few ladies who have contacted me, but I'm taking things one day at a time.

TVGuide.com: Did going on-camera allow you to express more how you truly felt?

Jessie Csincsak: Yeah. I figured there's no better way to tell someone how you feel than to get out there and look right into the screen and say this is what's going on. I spoke to the fans about how I was really feeling. I didn't discuss anything about what had gone on [privately]. The answer I got [from DeAnna] was that she loved me, but "wasn't in love with me." That's what she told me.

TVGuide.com: We've all been there. What's keeping you busy now?

Jesse Csincsak: I'm a professional snowboarder, so I'm focusing on that and just doing my thing.

TVGuide.com: What's the most fun part of snowboarding?

Jesse Csincsak: When I'm out there, I'm free. I don't have anyone telling me what to do. To be out there and be making a living snowboarding is fantastic.

TVGuide.com: Can true love be found on a reality show?

Jesse Csincsak: Originally, I thought it was the dumbest idea on the planet. "Go on TV and fall in love?" The fact that I actually did fall in love proves that you can fall in love on those shows.

TVGuide.com: I interviewed Deanna just before the show premiered. Contractually, she couldn't say if she was in love, but she couldn't exactly hide it either.

Jesse Csincsak: We were definitely both super happy [at one point]. We couldn't have been happier. We went from calling the producers every day [to find out] when we could be together to being together 24/7. We never get to fit into a daily schedule.

TVGuide.com: Have you and DeAnna stayed in touch?

Jesse Csincsak: We're doing a little bit of text messaging here and there. Mostly, we're giving each other some much needed space. I think we will definitely be friends [someday]. I love her very much and I hope she's happy.

TVGuide.com: Would you do another show, say, maybe The Bachelor?

Jesse Csincsak: If they offered it to me and I had the opportunity to fall in love again, I think I'd definitely consider it.

TVGuide.com: Would you recommend to anyone else being the next Bachelor or Bachelorette?

Jesse: Yes. You have ABC hand-picking 25 amazing people after telling [producers] what you want. Worse case scenario, you go through the show and you meet no one.

Matt Richenthal is the Editor in Chief of TV Fanatic. Follow him on Twitter and on Google+.

Tags: The Bachelorette