Monday night's stunning "After the Final Rose" special of The Bachelor, in which Jason Mesnick dumped Melissa Rycroft for runner-up Molly Malaney, has sparked outrage, big ratings and plenty of unanswered questions.
Did the producers know? Did they script this whole thing? Did Molly know what was coming? Did Melissa? Why did Jason pull the switch?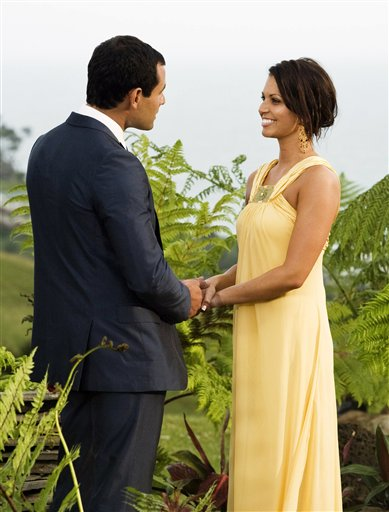 Jason Mesnick's short-lived engagement to Melissa Rycroft.
The Bachelor host Chris Harrison is speaking out about the finale in an attempt to clear up some of the rumors going around. Here are his thoughts ...
They were shocked: "When we left New Zealand, we were high-fiving, thinking this is great, 'People are going to love this guy and love the story.' I talked to Jason Mesnick when we got back, and things were going great. And then the next thing I hear, the producers are saying, 'He wants another shot with Molly.' And I just said, 'You've got to be kidding me!' We were all blown away."
This was not staged: "People think we wanted to pull this stunt, but we didn't!" This isn't good for us. I mean, the ratings were insane and all that, but we would have much rather had him end up with Melissa and have them get married. In the long run, that's a better story for us and for the fans."
They wanted to show the ending on
The Bachelor:
"We had a really big dilemma when this happened. It wasn't like a normal deal where, after the show airs, the couple doesn't work out and they just go on their way. It was right when the show started airing; he wants to make this switch to the girl he just broke up with. So what do you do? You can't just show him proposing to Melissa and then have
People
magazine reporting that he's dating Molly. We had to put something together. I don't know if it turned out right or wrong. That will be debated for a long time."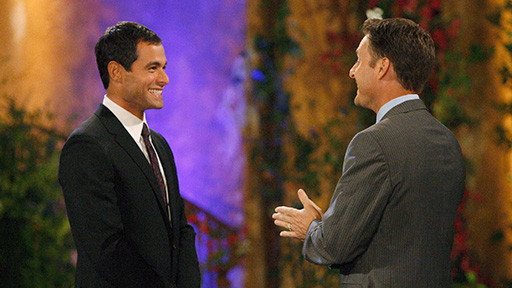 Jason Mesnick and Chris Harrison earlier this season.

Melissa Rycroft knew what was up: "Melissa was not blindsided. She didn't think everything was great and show up that day to talk about the wedding date and then realize she was going to be dumped. She was pissed and angry, but she wasn't blindsided. Not that it makes it any better for anybody, and I totally understand why people are still mad, but she wasn't the complete unsuspecting little lamb that you might think."

Molly Malaney did not know what was up: "There are the ridiculous stories in the media about how set up this was, how Jason and Molly had been seeing each other. When those came out, I talked to him again, and I said, 'Tell me, was there anything? Text messages? Phone calls?' I know they hadn't seen each other, but was there anything? And he told me, 'No, not until we got on stage.' That really was the first time she knew that he wanted her back."

Molly and Jason are going strong: "I can't believe how well they're doing. They're doing amazingly well."

Matt Richenthal is the Editor in Chief of TV Fanatic. Follow him on Twitter and on Google+.

Tags: The Bachelor