Viewers are about to become very familiar with the Manzo sisters.
Caroline Manzo and Dina Manzo star on The Real Housewives of New Jersey, which premieres tonight on Bravo.
The siblings recently spoke to People about the show and about themselves:

Do you represent typical New Jersey housewives?
Caroline: That's kind of a loaded question. Do I think we depict an Italian American family? Yes, I do. Do I think I depict a housewife? I most certainly am. There are some aspects to my personality that may be stronger than most, but the fact remains that I wake up every morning and I make the beds and I go food shopping and I let the dogs out and I do the laundry and I am somebody's wife and somebody's mother.
Dina: When I think of New Jersey, I think of moms who are passionate about their families. We definitely represent that. We're not really looking to be in the social scene as much as some of the other [casts] in the franchise. Our show is more authentic because some of those women were kind of forced to hang out with each other, whereas for us, we'd all be out to dinner together anyway — with the exception of a couple. We're just regular people. We're not walking a red carpet every night.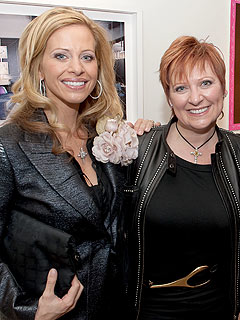 Are you prepared for any potential backlash?
Caroline: There is no preparing for it. But I'm a big girl. I've taught my children to accept that not everybody is going to love you. We make mistakes and we do things that perhaps at times will embarrass us, but that's what makes us human. I am proud of who I am. And I am so proud of my children.
Dina: We're very confident that we're good people. I can put my head on my pillow every night knowing that I give back to my community and I'm a great mother and a great sister, so they can say whatever they want.

Matt Richenthal is the Editor in Chief of TV Fanatic. Follow him on Twitter and on Google+.

Tags: The Real Housewives of New Jersey