Having premiered to six million viewers this season, Burn Notice is officially a hit.
While gorgeous star Gabrielle Anwar gave us an idea of what's ahead, during an interview with TV Guide this week, the real man with the plans is show runner Matt Nix.
He spoke with E! News and revealed the major themes of season three:
Is Michael trying to get back with an intelligence agency? "The answer is yes, that's his agenda, but it's a very, very hard thing to do. A burn notice essentially destroys someone's reputation, and as we all know, it is much easier to spread rumors [that] destroy someone's reputation than it is to take all that back."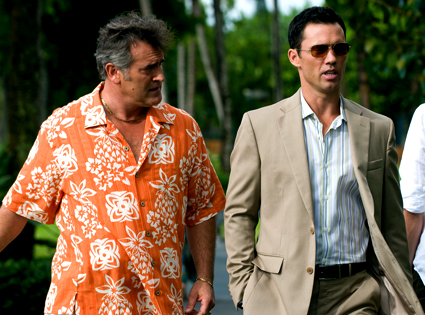 Who is new character Tom Strickler? "Tom's like an agent. Not a [covert] agent - more like a Hollywood agent. He [feels] that Michael is... talented, and there are plenty of people who would be interested in his services. Strickler comes to Michael and basically says, 'I'll help you if you help me.'"

What's the deal with Michael and Det. Michelle Paxson? "When we talked to Jeffrey and [actress Moon Bloodgood] about it, [we said] in another life, she could have been the spy, and he could have been the cop. But because spies are people who essentially break laws for a good cause, it's not really a divide they can get over.

Michael can't really tell her the truth about what he's doing, and even if he could, she can't really say, 'Oh well, then, fine.' They're two people who under other circumstances might have been friends, but under these circumstances it's an immovable object meets an unstoppable force."

Matt Richenthal is the Editor in Chief of TV Fanatic. Follow him on Twitter and on Google+.

Tags: Burn Notice, Spoilers
From Around the Web