Fans were shocked when T.R. Knight made the decision to leave the cast of Grey's Anatomy, the hit medical drama that launched him to fame in 2005.
This week, in an exclusive interview with Entertainment Weekly, the actor reveals what led him to his decision, and he also candidly discusses the Isaiah Washington situation, coming out of the closet, and leaving his friends at Seattle Grace.
This fall, Knight was surprised to see his character George O'Malley all but vanish from the show - in fact, in the first nine episodes of Season 5, he appeared on screen a total of only 48 minutes, compared to 114 for Sandra Oh's Cristina Yang.
Still, due to what he calls a "breakdown of communication" between himself and Grey's Anatomy executive producer Shonda Rhimes, the actor chose not to ask his boss what was going on with George O'Malley. Instead, he simply asked to leave.
"My five-year experience proved to me that I could not trust any answer that was given [about George]," he explains. "And with respect, I'm going to leave it at that."
Though he was unknown when Grey's Anatomy premiered, Knight emerged as one of the show's breakout stars, earning a supporting actor Emmy nod in 2007. But what came to be known as "Isaiahgate" catapulted him to household-name status.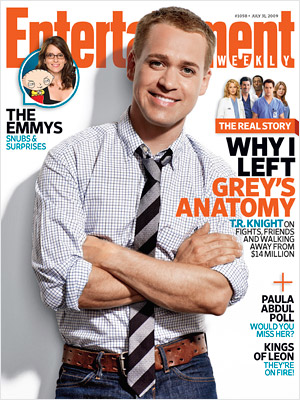 After Isaiah Washington referred to Knight as a "f----t" during an on-set argument with Patrick Dempsey, the tabloids caught wind of it, Knight came out of the closet, and Washington was ultimately not asked back to the show the following season.

While Knight doesn't specifically fault Shonda Rhimes for how the situation was handled behind the scenes, he says she tried to discourage him from coming out:

"I think she was concerned about having my statement come out so close to the [initial] incident." Rhimes denies it: "I said, 'If you want to come out, that's awesome.'"

Knight returned to work on Season 4, but the actor struggled with the story line in which George cheated on his wife Callie (Sara Ramirez) with Izzie (Katherine Heigl).

And once George went MIA at the star of Season 5, the star came to the conclusion that his character had "expired." But Knight is at peace with his choice to leave:

"There comes a time when it's so clear that moving on is the best decision," he says.

But at first, his castmate and friend Katherine Heigl tried to talk him out of it: "I didn't think it was the right decision," she says. "I felt like some of the problems could be worked out. But by the time it came to fruition, I was [glad] because he was ready to go."

T.R. Knight knows he's taking a risk walking away from his top 10 show and $14 million contract: "From an outsider's perspective, I get the [impression that] 'Oh, he's just a spoiled actor ... he doesn't know how good he has it,'" he says.

"There are a lot of people who would like to be in my position. But in the end, I need to be fulfilled in my work, and I am confident I made the right decision."

Steve Marsi is the Managing Editor of TV Fanatic. Follow him on Google+ or email him here.

Tags: Grey's Anatomy