In the most widely-circulated promotional poster for season three of Mad Men, Jon Hamm - as Don Draper, of course - is surrounded by water.
The actor says this is symbolic of where his character is at when the new season begins Sunday night.
"Those waters are rising in every possible way," Hamm told Maureen Ryan. "There are some new situations... that [Draper] has to navigate in almost every aspect of his life."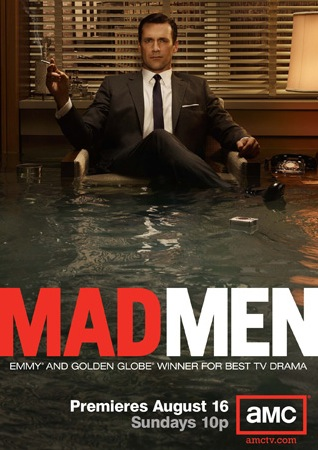 At the conclusion of last season, major changes came to Sterling Cooper, the NYC ad agency for whom Draper works. It was sold to  British company, and that development is still having an effect on Draper and his colleagues again when the drama returns.

"Even to the point of lying to his wife, he is a very solitary man in many ways. When the company gets sold, part of that is taken away... It presents a lot of challenges. And I think all of our guys are starting to feel that," Hamm said.

While few spoilers have leaked out, it's generally believed that the third season of Mad Men takes place in 1963.

Matt Richenthal is the Editor in Chief of TV Fanatic. Follow him on Twitter and on Google+.

Tags: Mad Men, Spoilers