Sorry, Chace Crawford. Even you don't stand a chance with Leona Lewis.
The singer turned down a chance to kiss the Gossip Girl hunk when he appeared in her latest video because it might make her beau, Lou Al-Chamaa, jealous.
"They wanted me and Chace to kiss in the 'I Will Be' video. But I said no way," she tells the U.K magazine Sugar, adding that Chace is just not her type.
"He needs roughing up a bit! He'd be a really pretty girl … He's so beautiful, I mean, look at him," she says. "But I just don't think of him like that."
"But mostly it wouldn't be fair to Lou to kiss other guys."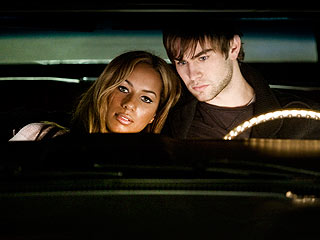 Chace Crawford in Leona Lewis' music video.

Lewis, 24, has been with her boyfriend since she was 17, and known him even longer. She says that at age 10, she thought her neighbor was "sooo cute."

She still does.

The singer, who recently defended her relationship with the electrician, says she loves his eyes, and teases: "Sometimes I'll look at him and be like, 'You have really nice eyelashes, can I put mascara on them?'"

Maybe having her kiss Chace wouldn't be so bad after all.

Steve Marsi is the Managing Editor of TV Fanatic. Follow him on Google+ or email him here.

Tags: Gossip Girl