Welcome to Grey's Anatomy Insider Round Table discussion! Below, our panelists break down some of the burning questions we're left with after last week's episode.
Topics for our "Holidaze" Round Table include memorable moments, the Chief's problem, the future of Owenstina, the holiday theme, and Chyler's awesome hubby ...
1. What was your favorite Grey's Anatomy quote from the episode?

McCritic: Bailey's impassioned defense of her life to her dad. You can look at our Grey's Anatomy quotes section for the whole thing, but it ended with "I'm happy, and my child is healthy, and that's enough for me today, Dad. That's enough."
MerDerLove: "If you want to stay mad, stay mad. But I'm just gonna be here kissing you." Swoon at married MerDer!
iheartizzie: I love the lunchtime Alex-Cristina banter for the second straight week. Meredith: [to Cristina] Well, in that case you're Teddy's bitch. Alex: Maybe that's my problem - I'm nobody's bitch. Cristina: You're Izzie's bitch. Alex: YOU'RE a bitch.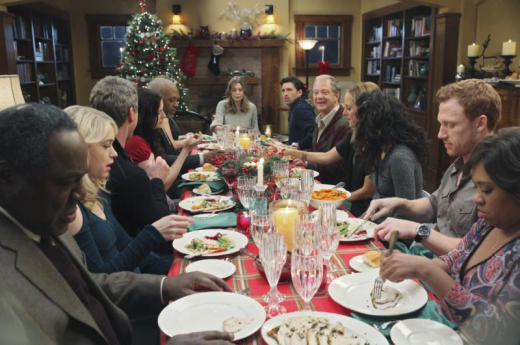 2. Did you like combining all the holidays into one episode?


iheartizzie: The season premiere took two full episodes to tell 40 days' worth of the characters' lives. In this case, Thanksgiving-New Year's is practically the same jammed into a single hour. Despite being a good episode, I thought some stories were cut short because of time. Also, the format necessitated some things - such as everyone at the same Christmas dinner - that seemed far-fetched. None of them have families? Nit-picky, I know, but things like that.

McCritic: Not really. This was a confusing scheduling move by ABC, as some shows are new this week or next or the week after. It felt very rushed and a little forced to me.

MerDerLove: I thought it was really good, with stories of forgiveness, love, family and more. I would have liked to have seen two hours but when isn't that the case?

3. How great was the story line with the girl and the heart?


MerDerLove: So great. I only realized after the fact that the "boyfriend" was Chyler Leigh's husband Nathan West! Cute guy, and a pretty solid actor too! Loved him in this episode.

McCritic: It was pretty great. We got to see what a cardio goddess Teddy is, buying the girl that much time. Teddy also taught Cristina a valuable lesson - that their patient's survival was only brought about by another tragedy, and wasn't something to be giddy over.

iheartizzie: In the case of this story line, I did think the holiday-combining format fit well. Talk about heartwarming ... literally at the end! I was really, really hoping she pulled through, and it's not always the case that you get attached to one-shot-deal guest stars.

4. What will happen with Owen, Teddy and Cristina?

McCritic: I don't know, but it's far from over. Owen's "I love Cristina" declaration seemed almost more for his own benefit than Cristina's or Teddy's. Is he trying to convince himself?

iheartizzie: Kevin McKidd himself says we're going to be "very torn and very involved and kind of sucked in." To me that says potentially a full season's worth of this love triangle. I think Cristina and Owen will be together in the end, but it's not going to be an easy, or short road.

MerDerLove: Here's the interesting thing if Kim Raver can pull it off as Teddy: Will she be universally hated for being seen as a threat to Owenstina, or will we end up liking her like many fans did Addison, a real person with good intentions, who just showed up at the wrong time?

5. As we look forward to 2010, assess the sixth season so far.

iheartizzie: I have mixed feelings. Individually, I think some of the recent episodes, particularly Derek and Arizona's, have been as good as any the show has ever produced. At the same time there is a little bit of a continuity problem, like they are a little disjointed and don't really fit together in a way that's hard to put your finger on. 

MerDerLove: For all the complaints fans have (myself included), I'm looking forward to seeing what 2010 brings. Sure, I'm still skeptical of Teddy, the Mercy Westers, what Izzie's deal is, etc., but there's a lot more to like about the show than not. The Owen-Cristina-Teddy story is getting good, as is anything involving Bailey, Der, etc.

McCritic: Wow, that's a loaded question you could go any number of directions with. Criticisms are easy to find when you care a lot, so I'll go in the opposite direction and say that honestly, this season has been great so far, actually, despite my fears of the cast getting too crowded. Whatever they're doing to keep the actors together, giving them time off periodically, keep doing it.

Steve Marsi is the Managing Editor of TV Fanatic. Follow him on Google+ or email him here.

Tags: Grey's Anatomy, Round Tables