Warning, Days of Our Lives spoilers ahead!
On the November 10 episode of the NBC soap opera, Arianna will come clean Brady: she's an undercover narc agent. Will Brady get pissed? No, he'll get turned on and the pair will hit the sack.
In a recent interview with TV Guide Magazine, portrayers Lindsay Hartley and Eric Martsolf dish on this storyline and their characters roles in it. They both answer the pressing question:
What makes Arianna finally admit her secret to Brady?
Said Martsolf: "Brady had become semi-okay with Ari's insistence that they keep their relationship a secret but then he presses the issue. He's tired of the secrecy and the lies and she comes clean. His reaction to the whole thing took me by surprise.
"I thought this was going to be a deal breaker because Brady has his trust issues, but he takes it better than I thought he would. Having been in rehab, he wants to be able to trust people again—and be trusted—and here's this girl who tells him her ultimate secret and trusts him with it. He can't help but be appreciative of that."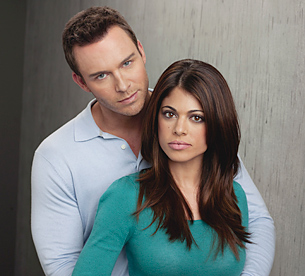 Said Hartley: "In order to be complete and fully intimate with Brady, Arianna needs to tell him the truth. She's surprised by his reaction, too. He goes above and beyond. Am I allowed to tell you what happens after that? What he does is very meaningful. Brady starts helping Arianna find the head of the drug cartel so they can end all this and she can be saved.

"He becomes her partner in crime. So not only do they have a love relationship but they'll be working together, which I dig! That's another realistic sort of thing you wouldn't see on Passions. It's a well-rounded relationship. Brady and Arianna not only get to be lovey-dovey but respect each other work-wise."

Matt Richenthal is the Editor in Chief of TV Fanatic. Follow him on Twitter and on Google+.

Tags: Days of Our Lives, Interviews