White Collar Review: "The Portrait"
at . Comments
We finally get to see and hear Kate interact with Neal - and it definitely made this episode worth it. Surprisingly enough, there are more clues to what she is trying to say. This time, she actually uses her voice - which means Neal must be getting closer to figuring it all out..esp. about who the guy with the pinkie ring is.
It bothers me to no end the "cat and mouse" game Neal and Kate are playing. I guess it's good for ratings, but C'mon! Enough is enough already. I am sure White Collar will drag this story line out for the rest of the season.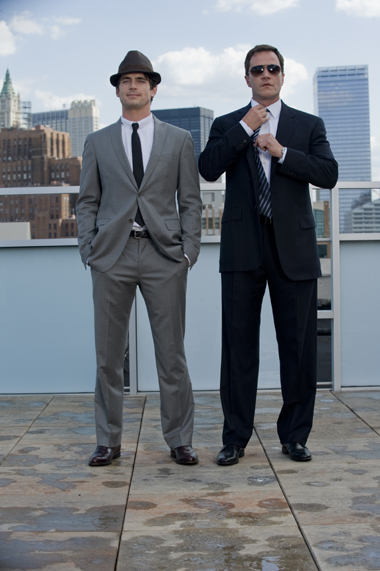 Yet, there was a couple really funny parts to this week's episode, "The Portrait". For one, anything involving Peter and women - makes it very humorously awkward. He is a handsome looking man, but when it comes to being hot and sexy, he can't foot the bill. Neal on the other hand...yeah, he should be taking Don Juan DeMarco lessons from him.
What we are really interested in seeing is some hot sex scene's with Elizabeth and Burke. That is one aspect of this awesome show they have left to the viewers imagination. We know Elizabeth has it in her - what with all her post experience in 90210!
Neal being the jack of all trades is also a little far fetched - do we really believe that someone That good-looking, is that smart and talented to paint an exact replica of the painting? Be serious please. They should have left the artistic talents to Mozzie.
This week kept us ever amused and also intrigued to see what happens with the whole Kate storyline. Let us know your thoughts on this weeks episode.
Until we meet next time, we leave you with our favorite White Collar quotes from last night:
Elizabeth: Wow honey, I am impressed - I can't believe you got in there (the nightclub). | permalink
Criminal: Monogamy is the great tragedy of beauty. | permalink
Peter: Have you ever met a woman -
Neal: Brittney - Brittney Nicole - Seventh grade...what? I had a gap in my teeth. | permalink
Mozzie: Oddly Bi-polar - I'd rather have some oysters. | permalink
Tags: White Collar, Reviews
Want more White Collar?
Sign up for our daily newsletter and receive the latest tv news delivered to your inbox for free!
More From TV Fanatic
On tonight's Gang Related, Ryan was forced to make a difficult decision. Which side did he chose?
On the latest episode of Satisfaction Neil learns an important lesson about being honest with himself from Adriana while Grace struggles on her new job. Read on for analysis.
Oliver turns down extending his contract as Acting Staff Sergeant until Duncan's dismissal hearing turns unpredictable on Rookie Blue.
On tonight's The Bridge, Marco is made an offer that he initially refuses. Will he agree to go after Fausto?
---