A season consisting of 19 episodes. An earlier premiere date than originally planned. No more Mr. Nice Spy.
Christmas came early for Chuck fans, as NBC has announced the above plans and more for the series.
No one is more excited than Zachary Levi, who sat down with TV Guide this week and dished on various aspects of season three. Check out excerpts below and the full interview now...
On the new Chuck: He's been gearing up to be a spy for a couple of years. How they've set up this new season with Intersect 2.0 and how that works, I think, is a great concept. It's a little Neo-Matrix, especially with lines like "I know Kung-fu," but then again, our show is a lot of homages to a lot of movies.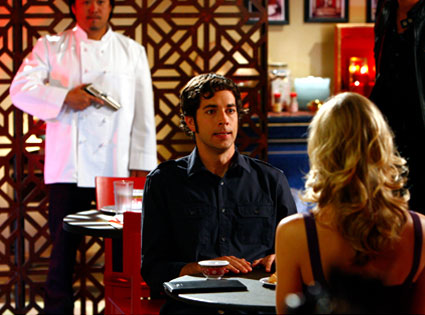 On Kristin Kreuk: Kristin may well be one of the most adorable girls in the world. She's a, super nice, and b, really talented. It's tough when you only have one thing to go off of when you're watching somebody to get a feel for what their acting level is. It's only Smallville—and not to downplay Smallville - but she's got more range than you can even see from her previous stuff.

I saw a whole different color and shade to her when she came in to play Hannah on the show. Last, but not least, just gorgeous. She's Dutch and Chinese, so I guess that's how you make 'em. Wooden shoes and chopsticks...both wooden, though! So I guess it's a wooden thing. Also, her and Rachel Bilson, just put me in your pocket small. She did a great job and I felt like we had a great chemistry.

On Chuck vs. his family: From day one, that's been the biggest struggle for Chuck, is trying to balance this world of espionage and his life at home, his sister, Captain Awesome [Ryan McPartlin], Morgan [Joshua Gomez] and everyone else at the Buy More, but specifically Morgan and Ellie [Sarah Lancaster]. That's the toughest on him because they're the closest people in his life and he has to lie to them all the time.

He definitely struggles with that this season.

One of the cool things in the writing is that it's noted that Chuck is becoming better and better at lying, which is good and bad. He's losing himself in this world of espionage a little too well sometimes. Much to the chagrin of Sarah, who really likes Chuck for Chuck and doesn't want him to lose who he is. I don't think Chuck wants to lose who he is either, although he does want this spy life because it's something that gives his life meaning and purpose outside of fixing people's computers.

Matt Richenthal is the Editor in Chief of TV Fanatic. Follow him on Twitter and on Google+.

Tags: Chuck, Interviews