The new year is practically upon us and Grey's Anatomy gossip is heating up. What's the latest on MerDer, and "explosive" developments with Cristina and Owen?
Below are excerpts from a new column by Fancast's Matt Mitovich ...

Q: Now that Grey's Anatomy's Ellen Pompeo is finally back from maternity leave, are we going to see more Meredith and Derek interaction?
A: Yes, though perhaps not as much as Derek would like. See, Dr. Shepherd is still grappling with all the recent upheaval at Seattle Grace, but because of Meredith'ss ties to the Chief, McDreamy will need to bend someone else's ear.
"Derek feels like he's kind of in a vacuum, and he needs another set of eyes on the problem," Kevin McKidd said. Those eyes belong to a certain redheaded war vet.
Previewing the gents' bonding experience, McKidd says:
"Sometimes you need a new perspective, an outside view to determine if you're on the right track or not, and Owen provides Derek that service in a way."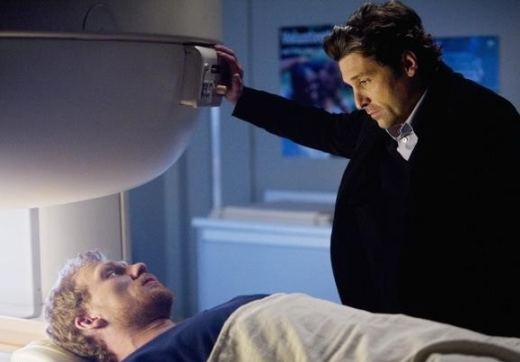 Q: I will trade you a hot kiss under the mistletoe for some good Cristina-Owen spoilers. Not vague Grey's Anatomy spoilers, but good ones!

A: Due to overwhelming demand, I presented Kevin McKidd with rumors going around about something explosive awaiting the couple when Grey's Anatomy returns January 14.

The handsome actor confirmed that "in the next couple episodes there are some pretty explosive things that happen. Almost straight out of the gate, big things happen."

I asked Kevin if these "things" were of a personal or professional nature.

He spilled, "It's kind of both" before shutting down for fear of retribution from boss lady Shonda Rhimes. Now take note, Kevin was being vague, not me.

Is the kiss still on the table?

Steve Marsi is the Managing Editor of TV Fanatic. Follow him on Google+ or email him here.

Tags: Grey's Anatomy, Spoilers