With every primetime series on hiatus until 2010, it's time to take a look back.
When will your favorite show return? Consult with the TV Fanatic television calendar now.
Until then, our staff will gather and report on the status of various sitcoms and dramas. Up now: 90210.
Best Character: Adrianna and Naomi (tie). We couldn't choose just one. As we lauded in our previous Round Table, the show could easily have sent Adrianna down another drug-induced spiral. But it avoided that cliche and has created a mature, realistic character that truly depicts the struggles and pressures of a young addict.
Naomi, meanwhile, is simply hilarious. AnnaLynne McCord was given the opportunity to give this character more than one, bitchy dimension and she's run with it brilliantly.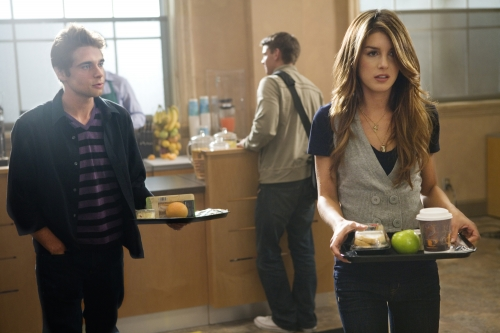 Worst Character: Teddy. He looks 37, let's start with that. But he also comes across as a complete jackass. Granted, he showed a sensitive side when Silver's mom got sick. But it takes more than just hitting a few tennis balls on a roof for us to believe Silver would actually go for him, as 90210 spoilers have revealed she will.

We can't think of any way Teddy has been a good friend to anyone else on the show and, unlike Naomi, his jerky comments don't come across as humorous, just as... jerk-like.

Best Storyline: Jackie's cancer and subsequent death. Jessica Stroup was outstanding throughout this plot development, while it managed to combine the sentiment of the old show with the remade version. It also kick-started a relationship between Silver and Teddy, as mentioned above, while helped to provide a catalyst for Adrianna's eventual recovery and Silver and Dixon's reconciliation.

A solid storyline brings numerous characters together and creates building blocks for future developments. This qualified in every way possible.

Grade so far: B Plus.

Hopes for 2010: More Ivy, she's growing on us (pun... intended!); A new, less crazy love interest for Dixon; Dire consequences for Annie as a result of her hit-and-run; More shots of Liam shirtless; Adrianna and Navid back together.

What about you, readers? What grade would you give the show so far this season?

Matt Richenthal is the Editor in Chief of TV Fanatic. Follow him on Twitter and on Google+.

Tags: 90210, TV Fanatic Report Cards, Reviews