Friday Night Lights Return Date Set (and Other NBC Programming Notes)
by Matt Richenthal at .
Conan O'Brien was the major loser in NBC programming debacle, which has resulted in the return of Jay Leno to 11:35 p.m.
The winners in this mess? Fans of Friday Night Lights, who will see that incredible drama return to NBC on April 30 (after it completes it current season four run on DIRECTV).
The network released its new mid-season schedule today, which will include new programming at 10 p.m. in place of Leno, starting March 1:
Mondays
8-9 p.m. Chuck
9-10 p.m. Trauma (beginning March 8 )
10-11 p.m. Law & Order (returns March 1 with two-hour episode, 9-11 p.m.; resumes in regular time slot March 8 )

Tuesdays
8-10 p.m. The Biggest Loser
10-11 p.m. Parenthood (premieres March 2)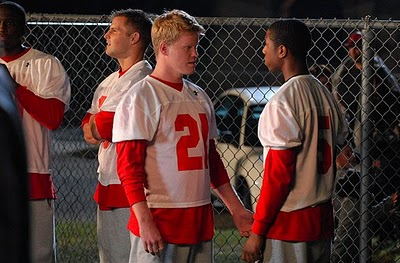 Wednesdays
8-9 p.m. Mercy
9-10 p.m. Law & Order: Special Victims Unit (encores beginning March 3)
10-11 p.m. Law & Order: Special Victims Unit (originals beginning March 3)

Thursdays
8-8:30 p.m. Community
8:30-9 p.m. Parks and Recreation
9-9:30 p.m. The Office
9:30-10 p.m. 30 Rock
10-11 p.m.  The Marriage Ref (premieres March 4; sneak preview Feb. 28)

Fridays
8-9 p.m. Who Do You Think You Are? (premieres March 5; Friday Night Lights, pictured above, returns on April 30)
9-11 p.m. Dateline NBC (begins March 5)

Sundays  (beginning March 14)
7-8 p.m. Dateline NBC
8-9 p.m. Minute to Win It
9-11 p.m. The Celebrity Apprentice

Matt Richenthal is the Editor in Chief of TV Fanatic. Follow him on Twitter and on Google+.

Tags: Friday Night Lights, TV Listings
From Around the Web