The cast of Glee does not need a reason to sing, that's for certain.
But hand the show a Golden Globe Award for Best Comedy, talk to them backstage about the unexpected victory and watch what happens:
[video url="http://www.tvfanatic.com/videos/cast-song/" title="Cast Song"] [/video]
Meanwhile, creator Ryan Murphy spoke to Michael Ausiello at the event and shed a lot of light on what's to come on season one. To wit:
More Puck/Rachel to come: "I was really surprised [viewers responded so favorably to that pairing]. I thought people would find her to be far too irritating for him... But because I read that, I was like, 'I'm going to get them together in some way.' So we just finished [writing] a special episode where they are together, and they have two numbers together."
On the Madonna episode: "It's big... huge. We're shooting it now. It's got like 10 numbers in it, and the production value is very big. We adore her and worship her."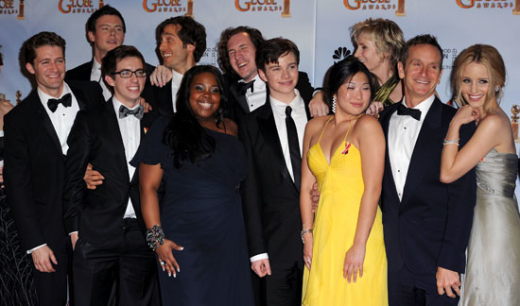 A courtship for Kurt: "We're going to make them a power couple. We're not going to do the whole hiding in the shadows thing. We're going to make them popular, and out and proud and glamorous. Like prom king and king. We're doing the opposite of what's been done."

Jenny... from the Glee block? "Jennifer Lopez wants to do the show, so I'm going to meet with her. In the past couple of months, a lot of people are coming out saying they love the show and would I meet with them and write something. But I don't want to stunt-cast too much, because I think the [musical] numbers are already so extravagant."

Matt Richenthal is the Editor in Chief of TV Fanatic. Follow him on Twitter and on Google+.

Tags: Glee, Interviews, Spoilers