There's a new Interim Chief, but the like the real world, the problems at Grey's Anatomy's Seattle Grace clearly can't be fixed in one day. But it was great to watch Derek try.
Between Bailey's patient (and her love interest), Alex and Arizona kicking a$$ in peds, Mark and Lexie on the rocks and the Owen-Cristina drama, there's plenty up in the air.
It was vintage Grey's Anatomy from start to finish. Here's our official recap (plus quotes and music) from last night. Now, here's our review of "State of Love and Trust" ...
REHAB: It's not just for Amy Winehouse anymore. The board has appointed Derek interim Chief, and told Richard he has to retire or go to rehab, then return to his post.
Richard is so angry at Derek, he can barely see straight, and James Pickens, Jr., delivers a seething scowl like no other. Ultimately, Bailey convinces him to choose rehab.
This was one of many Bailey high points. When a patient wakes up on the table mid-surgery, she is traumatized and won't let Miranda do a subsequent surgery she needs.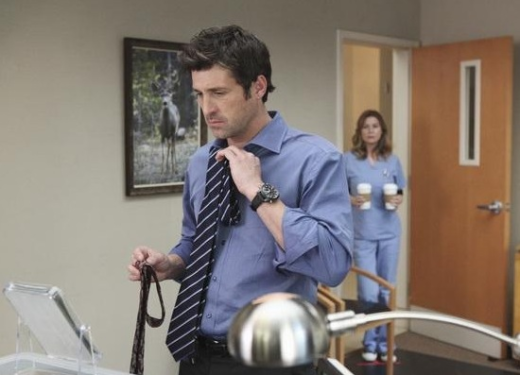 Ties alone don't make the Chief, Derek learned.
Meredith has to do it, and Bailey is a strong mentor for her. The side plot is that Bailey goes off on the anesthesiologist (Jason George), who recently came over from Mercy West.
Ultimately, we learn it wasn't his fault, and she apologizes ... or as close as Bailey can bring herself to. There's definitely some chemistry there. Can't wait to see where it goes!
Later, Bailey encourages Derek to do apologize to the patient, and to the staff, and start fresh. He does, with a great closing narrative, and even hires back some former staff.
Team Der ... and Bailey!
PEDS IS HARD CORE: Arizona's working with Alex on teenager with stomach pain, and even as he takes a ribbing from Jackson over it, it's clear Alex is at home in pediatrics.
Reminiscent of his days working with Addison, he sticks up for the patient when his parents won't, even after they end up doing exploratory surgery that yields no answers.
While the kid is in intensive care, his father lays into Alex, but then the kid crashes. Teddy gets called into surgery (more on that shortly) and ultimately they save the day.
Alex tears the kid's father a new one, which earns a strong rebuke from Arizona, but he clearly won her respect overall. This should be a fun new (professional) relationship!
Arizona proved a terrific, albeit unlikely mentor for Alex.

THIS ISN'T GONNA WORK: One of the funniest moments of the season, if not in the history of Grey's Anatomy, was despondent Mark lying in bed with Callie ... and Arizona.

It's not like that. He's still upset Lexie slept with Alex after breaking up with him ... even though he's being a hypocrite. Still, it's complicated and about more than just his ego.

Reminiscent of Season 1-2, with George lying next to Mer and Izzie, the episode closed with a shot of Mark, his BFF and her girlfriend staring at the ceiling, awkwardly. Classic.

Mark and Lexie have to get back together soon... right?

BURN NOTICE: Sandra Oh wins the award for most powerful performance on an episode packed with them last night. Things with Cristina and Owen are literally heating up!

Seriously. A boiler room sex romp leaves her rear end burned, but make no mistake, she's loving it. But then the worst thing that can happen to Cristina Yang essentially does.

Tedd, who had Avery on her service all day, pages Yang during the teenager's surgery. Owen, who is all over her at that moment, urges her not to leave ... and she does not.

Later, Teddy berates Cristina for ignoring her page.

Owen tries to help, but it's no use. She accuses him of trying to screw her into submission, and he laments that she doesn't give any of herself to him, so he can't know her.

Also reminiscent of the old days, when Burke said the exact same thing. Speaking of Burke, Owen learned for the first time, via Derek and Mark, that she left him at the altar.

Confronted, she insists Burke isn't relevant to Owen, but loving him meant giving a part of her away. She's terrified it'll happen again with Owen, who she loves even more.

Will they be able to work through this? We'll see.

What did you think of last night's Grey's Anatomy?

Steve Marsi is the Managing Editor of TV Fanatic. Follow him on Google+ or email him here.

Tags: Grey's Anatomy, Reviews