At the conclusion of this week's Survivor episode, Randy Bailey was voted out of the competition.
But the veteran castaway is leaving the spotlight quietly. In an exit interview with E! News, among other topics, he shares his candid feelings on our favorite contestant, Boston Rob.
"I could go on for hours," Randy said of Rob. "He turned on me. Some of this goes back to being a fan of the show and watching All-Stars. Lex was right. This game is not just a game, it's also life. It's evolved into something that I'm not particularly crazy about. It's too much of a game now. It leads to a lot of undeserving people making it far in the game. I'm not saying I should win, but I miss the old days.
"He's just an idiot... He's a p-ssy."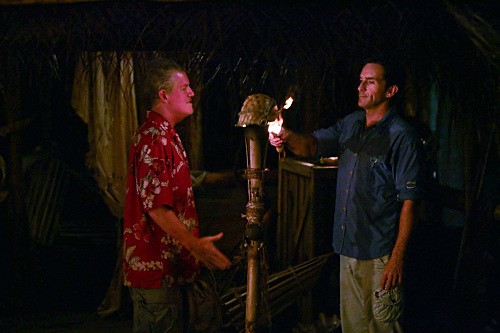 We'll refrain from asking Randy just how bitter he is and simply post a few more excerpts from his interview below:

On his hated of undeserving coattail riders: "I've never seen a less deserving final three [Sugar, Susie and Bob]. Ever. In Gabon that was more of a product of twists and turns in the game. What happened in season 19 [Samoa] was more of riding coattails. People have to learn: The jury votes for the person you like the most. Period. And if you hate 'em all, you vote for the one who's least objectionable."

On who he wants to win: "The way you vote on the jury is the person you like the most. These first three episodes, I'd like to see Coach or Jerri win. Actually I'd like to see Coach win, because Jerri made a quarter of a million dollars posing nude in Playboy. Coach is probably not going to be in Playgirl, so I want him to win."

On Coach: "He's an honorable guy. His confessional last night brought a tear to my eye. If I was the kind of guy to cry."

Matt Richenthal is the Editor in Chief of TV Fanatic. Follow him on Twitter and on Google+.

Tags: Survivor, Interviews