We're still reeling from the fact that Jake Pavelka chose Vienna Girardi to be his bride and that ABC subsequently chose Jake to be its 11th contestant on the latest edition of Dancing with the Stars.
It's almost as if the entire Bachelor season was meant to simply garner attention and ratings in order to ride this wave of publicity straight into DWTS. No way that could be possible, right?
Anyway, what's done is done (at least until Jake and Vienna make headlines for breaking up). Now, it's on to the season 10 pairings! ABC released them this afternoon...
Aiden Turner and Edyta Sliwinska
Nicole Scherzinger and Derek Hough
Jake Pavelka and Chelsie Hightower
Chad Ochocinco and Cheryl Burke
Niecy Nash and Louis Van Amstel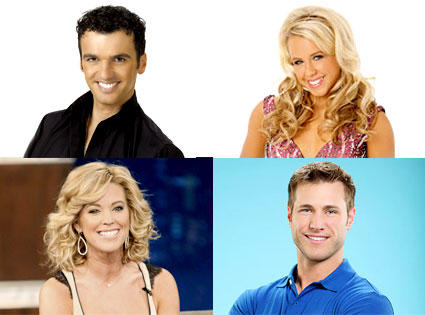 Evan Lysacek and Anna Trebunskaya
Kate Gosselin and Tony Dovolani
Shannen Doherty and Mark Ballas
Erin Andrews and Maksim Chmerkovskiy
Pamela Anderson and Damian Whitewood
Buzz Aldrin and Ashly Costa