Dancing with the Stars Elimination: Buzz Aldrin
by Steve Marsi at .
After the third week's scores were tallied by the judges on Dancing with the Stars, it was clear that a lower tier was established, and either Kate Gosselin or Buzz Aldrin had to go.
Of course, that was true the week before, and Shannen Doherty somehow got the fewest votes, so all bets were off. Last night, though, Kate and Buzz were in the bottom three.
Ultimately, the 80-year-old astronaut who was sent home, and left the stage beaming at having gone through the experience at all. Talk about a class act we could all learn from.
"I did this show for the fighter pilots, the military, the older geezers like me," said Buzz who received a standing ovation from the audience. "I thank everyone who voted for me."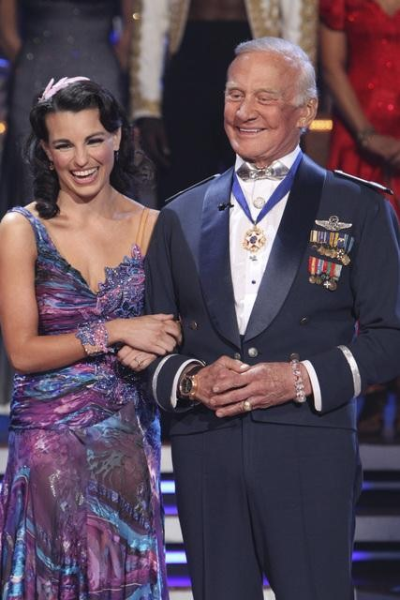 Buzz Aldrin (with Ashly Costa) did America proud.

Buzz's elimination means, of course, that the flat-out awful Kate Gosselin will dance on, and thus continue to be a huge ratings draw for ABC at least for another week.

The show has earned over 20 million viewers each week, even claiming the #1 ratings spot.

Which isn't too surprising, as people tuning in to watch a particular person either love them or love wanting them to fail. Either way, they're tuning in to watch. Point, ABC!

Joining Kate and Buzz in the bottom group were Jake Pavelka and Chelsie Hightower, who actually received the second-fewest votes Monday. Better step it up, Bachelor.

The favorites? Still Evan Lysacek and Anna Trebunskaya. Also in the running: Erin Andrews and Maksim Chmerkovskiy, along with Nicole Scherzinger and Derek Hough.

Nicole and Derek have been consistently strong, while Erin and Maks have been better than average and enjoy huge popularity - women love Maks and don't hate Erin!

Steve Marsi is the Managing Editor of TV Fanatic. Follow him on Google+ or email him here.

Tags: Dancing With the Stars
From Around the Web