Week Four on Dancing with the Stars featured predictable standouts and a couple of breakthrough performances. Or at least the Kate Gosselin equivalent of a breakthrough.
Despite posting the lowest point total of the whole night (on "Double Score Showdown" night), the reality mom was actually praised by the judges for being merely average.
That's how bad Kate Gosselin is.
On the opposite end of the spectrum, Nicole Scherzinger and Evan Lysacek continued their collision course to the finals, making very difficult tangos and rumbas look routine.
Pamela Anderson and Chad Ochocinco also performed strongly Monday, bolstering their status as second-tier contenders with some of their best scores of the season so far.
The rest of the field should be sweating a little, with the possible exception of Erin Andrews, due to sheer popularity (and being paired with max), because they were average.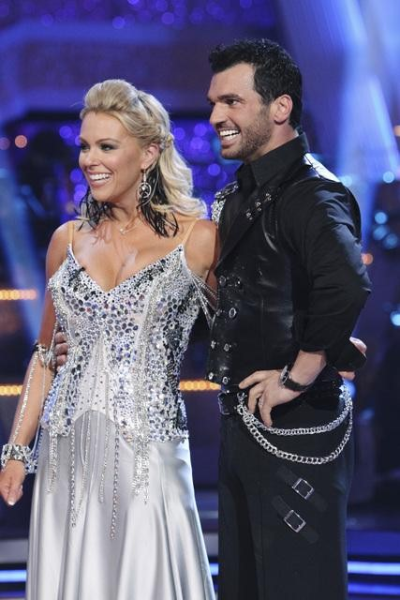 Kate Gosselin actually wasn't super terrible last night!

You'd have to guess that Kate is safe, based on the improvement alone. Similarly, you might think Jake Pavelka is at risk, along with the perpetually mediocre Aiden Turner.

Who do you think is safe and who should go home? Whose performance did you like best? Follow the jump for the complete Week Four scores on Dancing with the Stars ...

Evan Lysacek and Anna Trebunskaya (Tango)

Score: Technical: 26 (9-8-9). Performance: 26 (9-8-9).

Total: 52.

Nicole Scherzinger and Derek Hough (Rumba)

Score: Technical: 25 (9-8-8). Performance: 25 (8-8-9).

Total: 50.

Pamela Anderson and Damian Whitewood (Rumba)

Score: Technical: 23 (7-8-8). Performance: 24 (8-7-9).

Total: 47.

Chad Ochocinco and Cheryl Burke (Rumba)

Score: Technical: 21 (7-6-8). Performance: 23 (8-7-8).

Total: 44.

Erin Andrews and Maksim Chmerkovskiy (Tango)

Score: Technical: 18 (6-6-6). Performance: 21 (7-7-7).

Total: 39.

Jake Pavelka and Chelsie Hightower (Tango)

Score: Technical: 19 (6-7-6). Performance: 19 (7-6-6).

Total: 38.

Niecy Nash and Louis Van Amstel (Rumba)

Score: Technical: 18 (6-6-6). Performance: 18 (6-6-6).

Total: 36.

Aiden Turner and Edyta Sliwinska (Rumba)

Score: Technical: 15 (5-5-5). Performance: 18 (6-6-6).

Total: 33.

Kate Gosselin and Tony Dovolani (Tango)

Score: Technical: 14 (4-5-5). Performance: 18 (6-6-6).

Total: 32.

Steve Marsi is the Managing Editor of TV Fanatic. Follow him on Google+ or email him here.

Tags: Dancing With the Stars, Reviews