For many, it was the best episode in Lost history. Exploring the backstory of Richard and playing like a one-hour movie, "Ab Aeterno" also gave viewers Jacob's explanation of the island as a cork on a very dangerous bottle of wine.
ABC will re-air the episode on Tuesday.
We spoke this week with Jose Yenque, the veteran actor who played a key character in Richard Alpert's life: In "Ab Aeterno," he portrayed the doctor that refused to treat Richard's wife and was accidentally killed a result.
How did this role come about? Was Yenque always a fan of Lost? Here's what he told TV Fanatic...
How did you land this role on Lost?
I was in the middle of filming Mike Mills' feature Beginners with Christopher Plummer and Ewan McGreger when I got the call to read for the role.  We were filming an exterior scene that day with extras... everything went well and I was able to rush from the set to the office to read. The role was the doctor who was very opportunistic and insensitive to Alpert's dilemma, the polar opposite of my role as Robert in Beginners.
The role in Alpert's flashback was in Spanish, which made it so authentic and real. I was born in Brooklyn and I thank my grandmother for keeping my Spanish alive. Gracias, Tany.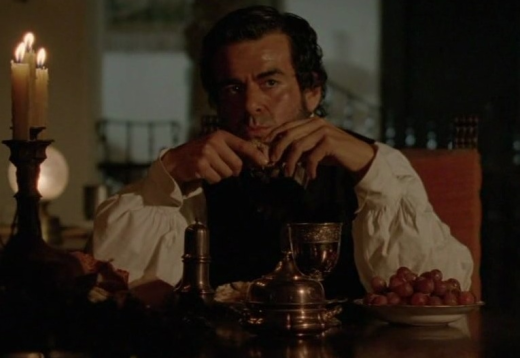 Were you a fan of the show before landing the part?
I was not a fan at first. It' rare for me to say I'm a fan of any show.  After finding out I was working on the show, I rented the first season and watched it on the plane on my way to Hawaii. I soon realized that watching Lost with it's plane crash flashbacks on a plane was real intense. I watched and became a fan.

How long did it take to shoot?
Episodes usually take anywhere from two to three weeks to shoot. If this episode played out like a movie onto itself, it's the result of great teamwork, writers, producers, crew and actors.

Nestor Carbonell is amazing as an actor and a great guy. It was a pleasure working opposite him. Tucker Gates wonderfully directed this episode. It was good to work with  him again, he directed me in one of my first TV shows (The X-Files) when I arrived to LA over 10 years ago... it was great to reunite after so many years in the warm weather of Hawaii.

What other projects are you working on?Beginners

. Mike Mills director, with Christopher Plummer and Ewan Mcgreger is set to release 2011.

Also, Lorrel Manning's Happy New Year is a very powerful film about the tough emotional/psychological paths our returning troops must face upon returning home. I play Martinez, the adversary to the lead character. He's a tough love, hard-ass guy; the medical professional who needs to maintain rule and order in the lives that are unraveling for many of his patients. Talk about challenging role. It was worth it.

What has been your highlight as an actor?
I'm lucky. I've got an on-going highlight going on. You see, my mom lives in NYC. She is an actress. Her name is Teresa Yenque (30 Rock fans would remember her as Salma Hayek's grandma in "Generalissimo").

I can't describe the feeling when we're both on TV on the same night. We get to see each other this way in these characters we play (it's even better than Skype!), Sure, it's easy for me to fly her out here to LA or for me to fly out to NYC and we do - but this is sharing what we both love to do on air. I play a lot of "dark" characters and I think she gets a kick outta seeing me in that zone (like in Lost). I watched her in a recent Law & Order episode in which she had to get really emotionally mad and I loved it!

We call each other afterwards and say "Good stuff, son" and "You rocked, mom."

Matt Richenthal is the Editor in Chief of TV Fanatic. Follow him on Twitter and on Google+.

Tags: Lost, Exclusives, Interviews