With the exception of Bruno's interpretation of Erin Andrews' moves, the Dancing with the Stars were far from stingy with the 10 paddles last night - and rightfully so.
Nicole Scherzinger earned a 30 on her Tango, and a 29 on her Cha Cha for a 59. Evan Lysacek scored a 30 on the Foxtrot and a 29 on the Paso Doble for his own 59.
Erin Andrews nearly achieved perfection with a 29 on her own Paso Doble, only to have Bruno call out her partner, Maksim Chmerkovskiy for "f*%king up" the end.
Bruno also messed with Erin and Maks inadvertently when he accidentally held up his 10 paddle for their previous dance, even though he had entered and said nine.
Bringing up the rear, through no fault of his own, was Chad Ochocinco, whose combined score of 52 was not shabby, and seemed a bit too low considering his effort.
Are the judges trying to encourage people to oust Chad with their votes for the other couples? He may be the weakest of the four left, but only by a very little bit.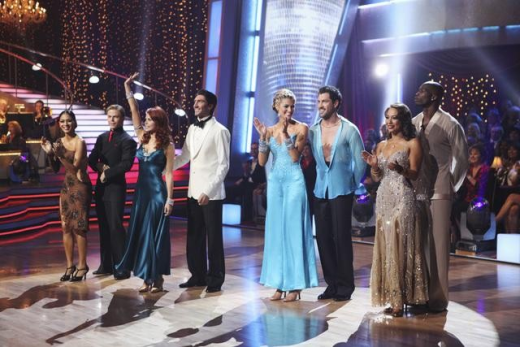 Dancing with the Stars' last four couples after their terrific efforts.

If he didn't leave after Week Nine, it would be a big surprise. It's unclear if Chad can pull together the kind of fan support he needs to achieve an upset, but we'll see.

Who do you think should be sent home on the results show? Can Evan possibly oust Nicole? Does Erin have the inside track to beat out Ochocinco as the third finalist?

Follow the jump for the scores from last night's Dancing with the Stars action:

Erin Andrews and Maksim Chmerkovskiy

Waltz: 27 (9-9-9). Paso Doble: 29 (10-9-10).

Total: 56.

Nicole Scherzinger and Derek Hough

Tango: 30 (10-10-10). Cha Cha: 29 (10-9-10).

Total: 59.

Chad Ochocinco and Cheryl Burke

Waltz: 27 (9-9-9). Samba: 25 (8-8-9).

Total: 52.

Evan Lysacek and Anna Trebunskaya

Foxtrot: 29 (10-9-10). Paso Doble: 30 (10-10-10).

Total: 59.

Steve Marsi is the Managing Editor of TV Fanatic. Follow him on Google+ or email him here.

Tags: Dancing With the Stars, Reviews