Now that Grey's Anatomy star Ellen Pompeo has become a mother to daughter Stella, she is working her "obsession" with diet and exercise into her daily family life.
The actress recently opened up about her baby and talked about how she prevents herself from becoming a "martyr" as a mom who cares for everyone but herself.
"I always have been obsessed with working out and eating right," said Ellen, 40.
"I've never smoked, or any of that. When you eat healthier with your kids, you're teaching them two things – you're teaching your kids about eating healthy, you're doing something as a family and you're helping yourself, so you're going to feel better."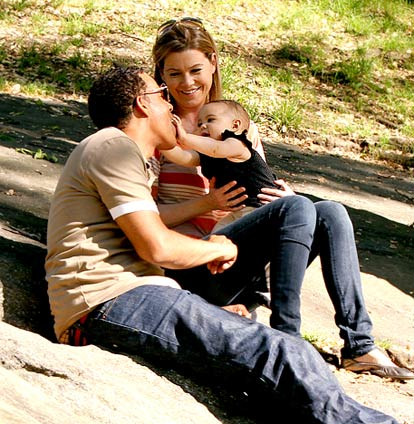 Ellen Pompeo and family.

"We say we don't have time for exercise. Well, you can go for a walk with your kids. You can bike with them. Women don't make time for themselves, and they say 'I can't do this because I have to do that.' You can think of ways to improve your whole family."

"You can spend time together as a family and take care of yourself."

"You have to set an example," she adds. "What you do, they'll do. Your kids are going to mimic anything you do. If you only put healthy food in the fridge, that's their only choice."

"If you only cook one thing, that's what your husband's going to have to eat."

"You have to put yourself first, and say 'this is what I made, and this is what you're going to eat.' If you're not healthy, you're not around, and there is no wife and mother. We certainly want more birthdays and more Mother's Days."

For Ellen Pompeo, sticking to a healthy diet and exercise regimen helps ensure she can share as much time as possible with her loved ones - despite the long work hours.

"I grew up without a mother," she says. "It's terrible to lose your mother. It's terrible to lose anyone. We have to do it for them. We're so busy being martyrs so much of the time, doing everything for them. Well, this is for them. Taking care of yourself is for them."

Why does Chris Ivery make a great dad?

"His sense of humor ... and his wisdom."

What's the best thing about mothering a girl"

"Everything," she says. "A healthy baby."

Steve Marsi is the Managing Editor of TV Fanatic. Follow him on Google+ or email him here.

Tags: Grey's Anatomy