Glee concluded one of the most buzzed-about first seasons in TV history this past Tuesday.
But while series creator Ryan Murphy is already giving away some fall spoilers and storylines, let's pause for a moment and look back at the wonderful season that was, via the latest edition of a TV Fanatic Report Card...
Best character: Sue Sylvester. Incredibly, she was NOT included among Murphy's original pitch. It wasn't until a Fox executive recommended a villain for the show that producers came up with Jane Lynch's quip-making cheerleader coach. Can you imagine Glee without her? Perish the thought!
Worst character: Terri Schuester. The series realized what a mess it made of this individual when it aired the final nine episodes of the season, shoving Will's unbalanced ex far to the side. But we last saw her flirting with Finn, implying that she'll still be around next year. That's fine, as long as they write Terri with more humanity and less, well, crazy.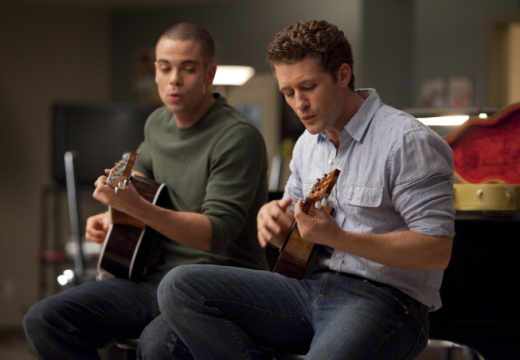 Best song: It's hard to not choose "Don't Stop Believing" because it set the tone for the season, but my favorite Glee music selection was "Somebody to Love." It made great use of everyone in New Directions.

Best performance: "Single Ladies." A football team breaking it down to Beyonce, during a game in which Kurt kicked the game-winning extra point and connected with his father? Utter absurdity, truly entertaining, totally Glee.

Best use of guest stars: There were a lot to choose from. But with no offense toward Neil Patrick Harris, Josh Groban and others, Kristin Chenoweth will always have a special place in our heart. She's adorable, she can sing (can she ever!) and we felt for a character such as April Rhodes.

Hopes for 2010-2011: We'll expound on this below, but the show must become less preachy, less self-congratulatory. It doesn't need to hit us over the head each week with some important message, especially when so many have been so similar (we get it, Kurt is struggling with how to be different and his dad supports him as best he can). Also: fewer pregnancies, more Jesse St. James and a chance for Will and Emma to be a real couple.

Overall grade: B+. An original concept, incredible songs, great acting. But this is still a TV show and its inconsistent storytelling must be addressed. Why did Jesse turn on Rachel? Why did Shelby shoot down the idea of one daughter (Rachel) and then jump so high at the chance for another that she legally adopted a baby? Often, Glee focused so much on its Message of the Week that it ignored basic character development and storyline logic.

Instead of trying to write layered individuals and tell stories from multiple perspectives, it too often fell back on the basic concept of underdog outcasts conquering all. Case in point, via Theatricality: Kurt's crush on Finn and subsequent actions were absolutely over-the-line and inappropriate. Finn was right to lash out at him - but then the show tossed the word "faggy" into Finn's mouth and twisted this storyline around to put Kurt in the right.

Glee has already created a set of characters we love. It can be a bit more subtle in the future with them. Here's to hoping it focuses less on life lessons and more on general entertainment next year.

Matt Richenthal is the Editor in Chief of TV Fanatic. Follow him on Twitter and on Google+.

Tags: Glee, TV Fanatic Report Cards