We're feeling the re-tooled So You Think You Can Dance this season already. Not only does the talent seem fresher and stronger than ever, but city auditions are already done!
Last night, Dallas and Nashville dancers vied for tickets to Las Vegas, which comprised the latter portion of the episode. Dallas definitely produced the stronger crop of the two.
In fact, only seven made it out of Tennessee. Weak, Nashville. Fortunately, there was quality move-busting in Texas and Vegas. Specifically, from a couple of familiar faces:
Billy Bell, who dropped out from Season 6 after being diagnosed with mono
Alex Wong, who dropped out of Season 5 because of a contract situation
Both were back and better than ever.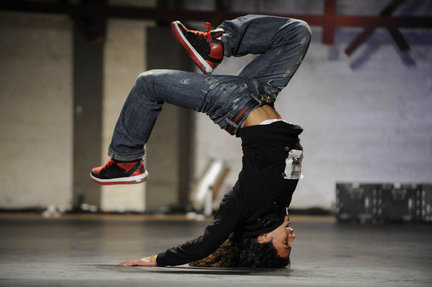 RAW TALENT: Eat your heart out, Dancing with the Stars.

In Vegas week, the first day was devoted to hip-hop, where a couple of early favorites this season were nixed. The second day featured ballroom for the 69 dancers left.

Nashville and Dallas auditions are in the books and Vegas week is underway. Who were the top competitors who stood out from the pack and remained in the running?

Follow the jump to see who the contenders are - and check out these So You Think You Can Dance spoilers for a look at the supposed Top 10 this season, if you dare!

The night's best ...


Alex Wong: The early favorite, period. Possibly one of the best ever.

Billy Bell: Alex's primary competitor for the title this season. Period.

Anthony Burrell: Lean, mean and fluid - despite a pulled hamstring.

Jose Ruiz: Think "Legacy" without the ego. Definitely one to watch.

Ida Saki: The perfect mix of strong emotion and refined technique.

Nicole Knudson: Tyce Diorio said Nicole was "the kind of talent that comes around once in 100 years." Absurd superlatives aside, Nicole was pretty solid. Keep an eye on her.

Jordan Johnson: Passionate, unique, dangerous and addictive. His combination of contemporary, hip hop, breaking, and even comedy made for one of the night's highlights.

Adechicke Torbet: One of the judges' early favorites, his disastrous showing in Las Vegas resulted in him having to dance for his life. Raw, but unpolished, Ade 2.0 survived.

Brian Gaynor: Remember him? The scoliosis-plagued, robot-dancing madman from a few seasons back returned, and still rules. Brian and his crew will be back again, too!

Notable eliminations:

Rachel Girma: We're not dance experts, but Rone of the standouts of the L.A. auditions was way off, missing at least half of her steps and showing her lack of experience.

Teddy Tedholm: In his own style, Teddy is electric. In choreography, however, he disappointed yet again and will not be continuing on with us this season. A big letdown.

Who was your favorite So You Think You Can Dance performer Thursday? Who do you think has what it takes to be Top 10? Share your opinions and comments with us!

Steve Marsi is the Managing Editor of TV Fanatic. Follow him on Google+ or email him here.

Tags: So You Think You Can Dance, Reviews