After a truncated audition period and last Thursday's weird exhibition episode, So You Think You Can Dance got underway last night, its pairs competing for the first time.
Camera and audio issues aside, it was as good or better than we remember from previous years. The new format with the newcomers and All-Stars is intriguing as well.
Here's a breakdown of the Top 11 performances last night ...
Billy Bell & Lauren Gottlieb: Their Broadway bit by Tyce Diorio was alright, but the steps didn't really follow the beat; Billy stood out, but their chemistry was lacking.
That fact was noted by Nigel, as well. Adam even said Billy needs to focus on the intangibles, since the steps come so naturally. Mia was proud of him in the new genre.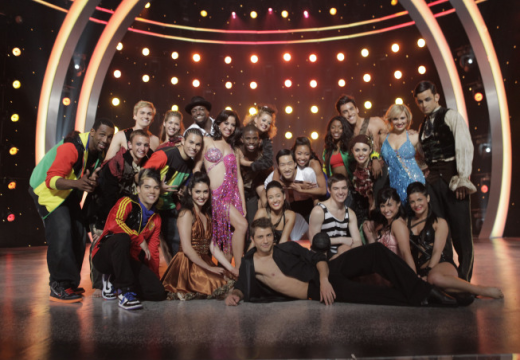 Cristina Santana & Mark Kanemura: Sonya wanted a sexy, sensual jazz routine, and thanks in part to her all-star partner, Cristina held her own and looked great.

We loved Sonya and Mark together, and agreed with the judges that Cristina filled the space that the choreography needed. Mia in particular loved Cristina's technique.

Jose Ruiz & Comfort Fedoke: Jose proved immediately that when it comes to actually understanding choreography, he might be the show's best breaker to date.

Still, it could have hit a little bit harder. Mia suggested that he needs to stay committed, while Adam tells Jose to add some power in order to continue his improvement.

Adéchiké Torbert & Kathryn McCormick: With an assist from Travis Wall, the story line to this jazz routine involves a man's work fantasy. You gotta love this show.

Once again, we saw the all-star, Kathryn, steal the show with most of the signature moves. Adechike was with her, but only in body. We thought he was just a little flat.

Melinda Sullivan & Pasha Kovalev

: This jive was all about love. Pasha dazzled, but Melinda lacked a bit in some instances, while appearing over the top in others.

Some of her leg motions were wide and her hand motions out of whack. She's got a lot of spunk, but she's gotta rein it in and get a handle on the technical elements.

Alex Wong & Allison Holker: Fan fave Alex was often criticized for not opening up. This should put those doubts about him to rest, with great execution and emotion.

He was definitely the best of the night, and - not that we've ever heard superlatives from the panel - Mia called it the best dance performed on any SYTYCD stage. Wow.

Alexie Agdeppa & Twitch Boss: Alexie was smooth throughout this hip-hop performance, despite being the last person you can visualize doing a hip-hop routine.

She made it work, in our opinion. Mia thought she danced like a little girl, though. Nigel acknowledged she was up against it, while Adam praised Alexie's charisma.

Lauren Froderman & Ade Obayomi: Mandy Moore's typical '80s discography made for a far from typical dynamic here. The choreography was unique and terrific.

The chemistry, though? Not so much. Lauren's movements didn't really connect with Ade's, and she needs to work more on connecting with him, not the audience.

Kent Boyd & Anya Garnis: In vintage Kent fashion, he nailed the choreography except for the occasional moments when he lost all focus and looked beyond cheesy.

Just the same, this kid has charisma. Mia loved his commitment, Adam loved his determination, and we have to admit, weird faces aside, you can't take your eyes off him.

Ashley Galvan & Neil Haskell: A contemporary and passionate performance in which Ashley connected with Neil extremely well, looking like this was a veteran pairing.

If there was any critique from the judges, it was the lack of emotion. Some dancers have that but lack the technical skill, but for Ashley, it's the opposite problem so far.

Robert Roldan & Courtney Galiano: An African Jazz routine made for strong passion and the two gave it their all, despite both being a little out of their comfort zone.

With his quirks and athleticism, could Robert be a dark horse this season? Courtney is a great partner for him, as they seem to accentuate each other's positives well.

So who's in trouble tonight?

Melinda or Adechike seemed like the least memorable of the bunch, while it's hard to imagine Lauren, Kent, Billy, Alex and Jose being in danger given their fan support.

Alexie is really cute and Robert was great in what could have been a weird African jazz bit, so Ashley or Cristina may be in the bottom three with Melinda and Adechike.

Which was your favorite So You Think You Can Dance routine last night - and who do you think is in jeopardy this evening? Leave a comment below and let us know.

Steve Marsi is the Managing Editor of TV Fanatic. Follow him on Google+ or email him here.

Tags: So You Think You Can Dance, Reviews