Sigh. One week after Alex Wong tore his Achilles tendon and was declared DFY, not only costing So You Think You Can Dance a fan favorite but rendering that entire week's worth of performances more or less moot, Ashley Galvan was on the shelf with a rib injury.
She did not dance Wednesday and will be in the bottom three.
Unlike Alex, her status is likely to remain questionable through tonight, so if she makes it through but still can't dance, she's out of the show. Who will join her on the block?
Here's our take on last night's SYTYCD performances ...
Lauren Froderman with Mark Kanemura (Tahitian): High energy, but the first Tahitian display on the show can be summed up as such: "I have no idea what to say." - Nigel
You gotta love this feedback, too: Mia Michaels says Lauren looked like a duck in heat, and that's a good thing in Mia-land, and Adam Shankman said she was spectacular.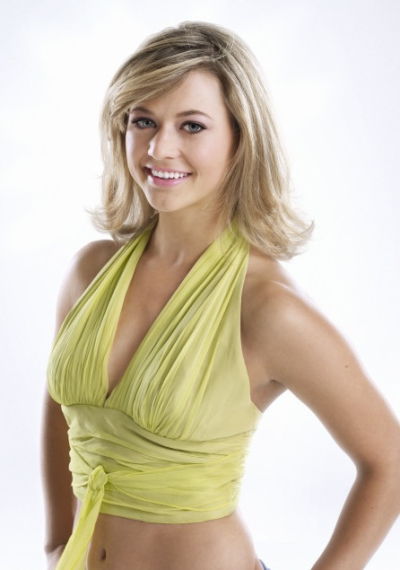 Lauren Froderman was pretty great, though we prefer her traditional attire.

AdeChike Torbert with Anya Garnis (salsa): AdeChike may have been thinking too hard about the moves, but Nigel and Adam say he pulled it off. Mia gives a more mixed review.

Jose Ruiz with Courtney Galiano (Broadway): Jose didn't have much to do in this forgettable number, and in turn didn't do much with it. He needs to get sharper, and in a hurry.

Robert Roldan with Allison Holker (contemporary): Absolutely beautiful choreography, and presentation on Robert's part, hopefully getting him out of the bottom three for once!

Billy Bell with Anya Garnis (jive): The music took away from it, but Billy worked hard, particularly at partnering, and looked good - connected, committed, and in charge. Nice!

Kent Boyd with Neil Haskell (Broadway): A routine about baseball could have been cheesy, but SYTYCD often surprises you this way. Kent, forgive the pun, hit it out of the park.

Lauren and Billy (jazz): So adorable. One of our favorites all night. The jazz really seemed to suit Billy well, and we're smitten with Lauren. Smiling ear-to-ear thinking about it.

Jose with Dominic Sandoval (b-boy): While it seemed fortuitous for Jose to be paired with hip-hop dancer Dominic, he was still overshadowed by the All-Star. Still, it was cool.

Adechike and Kent (contemporary): Kent could win with Alex out, according to Nigel, and Mia says Kent is getting stronger. Adechike got props, but this was the Kent show.

Robert and Kathryn McCormick (disco): A very strong and masculine disco, if those words have ever been spoken before. Mia loved it but never wants to see Robert do it again.

Which performance was your favorite? Who do you think is going home on So You Think You Can Dance? Will Ashley survive despite her injury? Comment and discuss!

Steve Marsi is the Managing Editor of TV Fanatic. Follow him on Google+ or email him here.

Tags: So You Think You Can Dance, Reviews