Gossip Girl Spoilers: Chuck. Blair. Sex.
by Steve Marsi at .
Here's a Gossip Girl spoiler that fans are likely to go absolutely bonkers over (just a hunch). Let's just cut right to the chase here: There will be sex. It will involve Chair.
According to E! Online, relations, "of the bom-chicka-bow-wow kind," will take place between Chuck and Blair in the upcoming fourth season, which begins September 13.
Gulp. Excited yet?!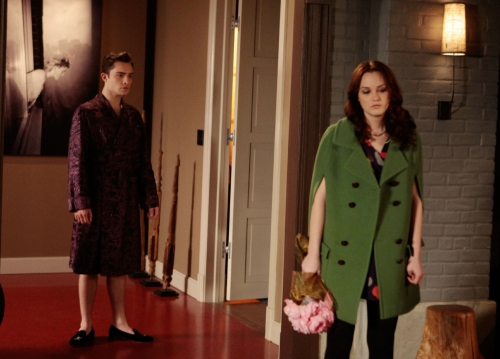 It's only a matter of time until the feelings come out ... and the clothes come off!

As for whether they will actually get back together, well ... that we cannot say. Partly because we aren't sure, and partly because the CW would kill us if we did say.

As for the return of the Upper East Siders in general, Penn Badgley sums it up best.

"There's a baby on the way, which I think everybody already knows anyway. We're in Paris for a bit. There's a gunshot wound and there's another marriage," he says. "I think. It's hard to keep track of the weddings, because they're all broken up anyway!"

So, business as usual then in New York City? Indeed. "It's the same kind of sensational stuff you've come to expect, and the change of locale makes it even more gorgeous. More of the typical stuff but in an even more heightened capacity," Penn promises.

A gunshot wound we've seen, but another marriage? What do you make of that and the Chair sex spoiler? Weigh in with your comments and predictions!

Steve Marsi is the Managing Editor of TV Fanatic. Follow him on Google+ or email him here.

Tags: Gossip Girl, Spoilers
From Around the Web