Four dancers remain on So You Think You Can Dance, with America's Favorite Dancer set to be crowned just one week from tonight. Last night, they all made their case.
With the judges entirely powerless now, the voters hold all the cards - and as we've seen throughout the season, that can be a dangerous and unpredictable scenario.
Let's get down to it and see how Lauren Froderman, Kent Boyd, Robert Roldan and Adechike Torbert did in their bid for dance immortality. A breakdown by routine:
Lauren Froderman and Pasha (Tango)
The passion and intensity were there as always, as was Lauren's obvious appeal to any straight male. But it was the control she showed that truly stood out this time.
When Mia described it as "simmering," "mature" and voyeuristic in a good way, we can't think of anything to add. It was art to an expert, and beautiful for a novice.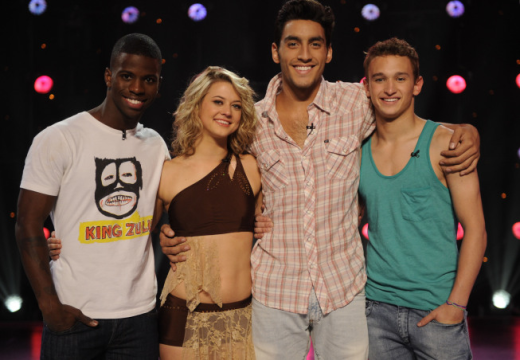 Adechike Torbert and Lauren (African Jazz)

Would the genre be the kiss of death we expect it to be? Not necessarily. It was a fun routine, although the judges concurred that Adechike didn't execute well enough.

It's never a good sign when a dancer is told he has to dance for his life in future performances ... we'll just leave it at that. Adechike definitely dug himself a hole early.

Robert Roldan and Anya (Viennese Waltz)

We thoroughly enjoyed this romantic routine, even if we'd never admit it in mixed company. Robert did a nice job of going outside his comfort zone at a critical stage.

Despite weekly trips to the bottom three early on, Robert has really progressed and is even earning praise for dancing as well as the All-Star at this point in the game.

Kent Boyd and Courtney (Disco)

Disco always walks a fine line between get-up-out-of-your-seat awesome and really, really cheesy. Could Kent rein it in and convince us it was the former? Kind of.

Kent's got skills, but this was not one of his best. There was a certain seriousness that even a funky thing like disco requires, and it was missing. Will it cost him?

Lauren and Ade (Jazz)

Terrific choreography and execution by Lauren with one of our favorite stars of seasons past bolstering her efforts. She owns it, and deserves a spot in the finale.

That's because she managed to be strong, yet feminine at the same time, and ferocious as well as vulnerable. She can sell the character and the moves. Wow.

Adechike and Kathryn (Contemporary)

This one seemed to lose steam by the end, possibly a microcosm of how things are going for Adechike in general. he's had a heck of a run, but it's going to end.

The judges have already gotten to the point, again, of saying how proud they are of him for how much he's grown. That's code for Vote This Guy Out, America!

Robert and Dominic (Hip Hop)

The hip-hop routines are always our favorites, and this one was no exception. Absolutely awesome routine, with Robert showcasing more skill than we expected.

Such a commitment to both the character and choreography, as we saw earlier from Lauren, is not an easy sell, particularly outside of one's genre of choice.

Kent and Neil (Contemporary)

Is it dusty in here? A great closing number, this piece was moving on such a raw emotional level it left us speechless. Did it just help seal the title for Kent?

Excellence was the word on everyone's tongue, so you have to think it might have. Deservedly so if it did, because Kent absolutely killed it. Magnificent.

Who do you think stood out the most - and who will be eliminated this evening? Weigh in on last night's So You Think You Can Dance performances below!

Steve Marsi is the Managing Editor of TV Fanatic. Follow him on Google+ or email him here.

Tags: So You Think You Can Dance, Reviews