Gossip Girl star Taylor Momsen does not censor herself.
In her quest for rock stardom, the 17-year-old certainly looks and acts the part, with racy outfits and controversial quotes surfacing as often as The Pretty Reckless' music.
What did the band's frontwoman say to make headlines this time?
A New Zealand radio station recently landed a Taylor Momsen interview in which she discussed The Pretty Reckless' song, "Going Down," about the Catholic church.
Why did they pen a song about that in particular? "I was raised Catholic. I f*%ked a priest once. Just kidding," she said. "It seemed like a fitting song to write at the time ... It was kind of a f*%k you to all the molestation going on. It was just insane."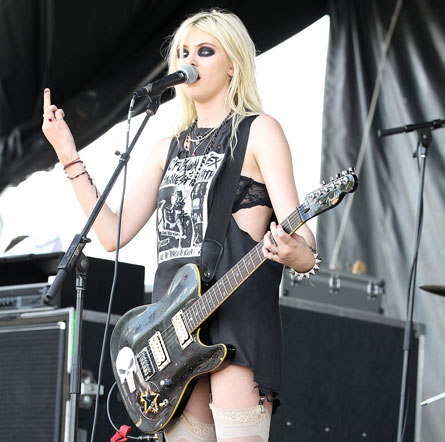 Taylor Momsen could not care less what people think.

She went on to bash people for posting photos of her online, but also defended Perez Hilton and other bloggers for just doing their job: "I don't take [stories about me] to heart; I just look at it this way: My f*%king tampon's on the goddamn Internet."

Regarding her so-called best friend, she said: "[My vibrator] doesn't talk back to me so it's really not a best friend... I think women should equally be allowed to pleasure themselves as much as men. I think that if that has any more controversy than a man talking about pleasuring himself, then there's something wrong with the world. I just think men and women should be treated equally. I'm not a whore for masturbating, so, like, f*%k you if you want to call me one."

On the subject of teen heart throb Justin Bieber, Taylor said: "I don't know who Justin Bieber is. I only know his name because it keeps being brought up to me ... I listen to Led Zeppelin and The Beatles, so I have no idea who he is. That's not a dis; I just don't know."

Well, there you go. What do you think of Taylor? Is she a cool girl just speaking her mind, or a bad role model in need of a serious attitude adjustment?

Follow the jump for the full, seven-minute audio interview:

[video url="http://www.tvfanatic.com/videos/new-taylor-momsen-interview/" title="New Taylor Momsen Interview"] [/video]

Steve Marsi is the Managing Editor of TV Fanatic. Follow him on Google+ or email him here.

Tags: Gossip Girl