America's Next Top Model Review: Roller Skating into Reality
by Kate Moon at .
America's Next Top Model jumped right into the nitty gritty of fashion this week, as the girls were exposed to the "reality" of fashion and fashion shows. 
The famous guest star du jour is Zac Posen, and the girls get to meet him and walk in his fashion show. Miss Jay, with his insanely drawn eyebrows, reminds the models that most wannabes do not get such exposure to designers such as this, and they should take advantage of his presence.
For that ANTM twist, Jay tells the working professional models during the fashion show challenge to give the ANTM girls that model "jolt," aka be mean and shake the girls' confidence. And mean they are, commenting on Esther's giant  boobs and telling Ann that she's not really Posen's "type."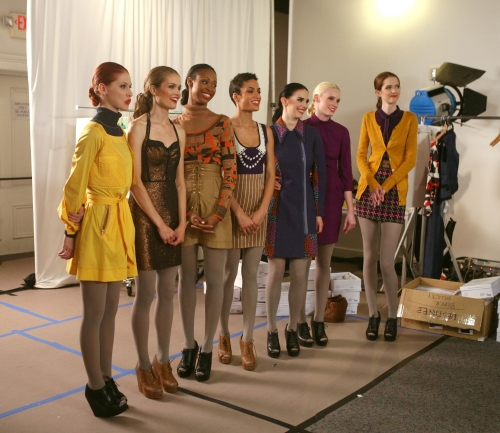 Okay, so I know Ann is the judges's favorite and she seems like a sweet girl, but any time she's not in a photograph, she honestly looks like she's about to faint/cry.  She looks gorgeous on the runway but her scared doe eyes and scarecrow walk frighten me. 

This week, the girls are subjected to the commercial challenge. Jay and Nigel Barker will direct the girls right in their backyard.  The challenge involves H2T energy water (not real), roller skates, and boys.  Ann responds with her usual despondent sigh that her height will be a problem on roller skates, while Kayla doesn't like the idea of being intimate with men.

Kayla reveals that she was sexually assaulted at a young age and doesn't want to participate in the shoot.  As devastating as the experience must have been, it's also pretty awful that she has to reveal this on national television when even her family members don't know about it.  Jay convinces Kayla to participate in the shoot anyway, although the poor girl looks unhappy during her takes.

Most of the girls definitely struggle on roller skates, but none more so than Ann, who not only tumbles several times, but also looks generally miserable during her takes. The judges all seem to love Chris' personality, but I find her to be a bit obnoxious and loud; I definitely think Jane did much better in her commercial.  She looked radiant!

Poor Esther, who I think is so gorgeous, gets the kiss of death when Nigel mentions  that he "forgot" her when he went home that night.  Please... they used the very same line on April back in Cycle 2 and it just means she won't be sticking around for long. 

Chris gets best commercial, but I really think Jane should have received the honor.  Runner-up isn't shabby, at lest.  Golden girl Ann and Esther are in the bottom two. Of course Esther gets eliminated because the judges are obsessed with Ann. 

Tune in next week because the remaining six girls are going to Italy!

Tags: America's Next Top Model, Reviews
From Around the Web